Become great at Google ads
Master Google Ads and make paid acquisition highly profitable
This intermediate-to-advanced Google Ads course is designed for people wanting to run ads that hit the right targets and get you the results you need.
Online course
By Johnathan Dane,
Founder @ KlientBoost
Course length: 1h 50min
Start 7-day trial for $1
Ruthless prioritization and execution "recipes" are critical to Google Ads success
As a marketer, you know that Google Ads is an excellent platform for driving business success – regardless of your industry.
But if you've ever struggled with understanding how to make this channel work for your specific business needs…you're not alone.
Learn a ruthless prioritization framework and get a full suite of execution recipes to follow so you're always running ads that hit the right targets and get you the results you need.
Introduction video (1 min)
After taking this course, you'll…
Know how to set realistic Google Ads goals – so you can prioritize things that have the biggest impact first
Be able to conduct insanely productive research by focusing on granularity principles and validate ideas
Understand PPC temperatures – so you can follow the law of conversion intent and not waste time/resources trying to fight it
Comfortably navigate the entire Google Ads interface – so you can diagnose and find opportunities as you go along
Be a master of targeting and split testing
Know which optimization routines are the best – so that you can make quicker improvements with less time spent.
Be able to scale all types of campaigns – so that you can grow conversion volume after you've achieved as ROAS and CPA you're satisfied with
Know exactly which levers to pull for maximum impact with your Google Ads
Google Ads could be your business' best growth lever…you just need to know how to execute your campaigns properly.
This course will teach you a proven, industry agnostic framework that's guaranteed to help you drive consistent revenue growth at your company.

Jevon Chin
The Google Ads course was double worth the required time investment, and some of the principles are usable for other platforms as well. It was no-nonsense, straight to the gold.
This course is right for you if you…
Want to be able to make your company more revenue
Wish to cut through most of the BS out there and optimize for what's important
Want the strongest Google Ads foundation possible
This course is NOT for you if you…
Want a silver bullet to make you millions of dollars
Are not willing to put in the time and correctly execute to see the results
Try to improve vanity metrics over business level metrics
Skills you should have before taking this course
Because this is an intermediate-to-advanced course, students should be familiar with Google Ads basics, including how Google's auction systems work, the fundamentals of online advertising, and the importance of bringing value to targeted prospects. But most importantly, students should be curious and ready to learn.
If you have the skills and experience described below, this course is a good fit for you:
Have ad budget ready to use to put these ideas within this course into practice
Want to further yourself and your company's ROI potential
Want to continue to learn and are okay with experimenting new approaches
Johnathan Dane
Founder @ KlientBoost
Johnathan Dane is the founder of KlientBoost and Kite, a PPC agency and software solution helping clients scale revenue and performance. Over the past 6 years, Johnathan has built over two 50+ people agencies, spoken at digital marketing conferences an …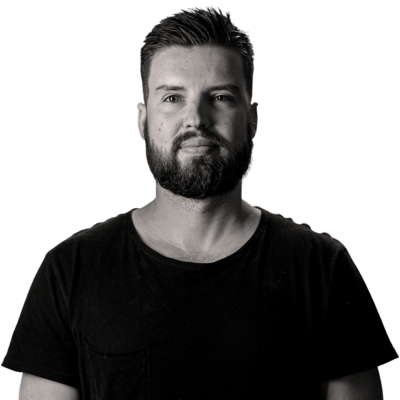 Johnathan Dane is the founder of KlientBoost and Kite, a PPC agency and software solution helping clients scale revenue and performance.
Over the past 6 years, Johnathan has built over two 50+ people agencies, spoken at digital marketing conferences and schools (namely Stanford) and been the paid acquisition mentor for 500 Startups.
He has been part of hundreds of blog posts, podcasts, and webinars sharing knowledge while working on building all his successful recipes into Kite, the software that he believes will power the future of many PPC accounts.
Your full course curriculum
Google Ads
When you dive deep into the Google Ads ocean, you'll find that there are tons of pretty (yet meaningless) metrics to stare at.
It's important you understand which metrics to sacrifice in order to achieve your ultimate goals.
Topics Covered:
The purpose of using Google Ads for your business
Key metrics for business outcomes
Micro-metrics
2
More Accurate Goal Setting
Many new advertisers believe (or hope) that online advertising is incredibly simple. Yet they fail to believe that mostly all success comes from stronger execution.
A 10X return on ad spend is achievable, but you may have to be okay with lower conversion volume - this is why it's important to discuss the differences in traffic performance and what each type can help you achieve.
Topics Covered:
Ignore industry averages
Goal focus with actual business impact
3
Understanding The Iceberg Effect
The simpler your campaign and ad group structure, the quicker you'll learn what works and what doesn't.
By not using layers of targeting, you're able to isolate and pivot at a faster pace to achieve the numbers you want.
Topics Covered:
The Iceberg Effect
The advantage of granularity
4
Native Google Ads Research Tools
Google's own data is unparalleled compared to other "off-the-shelf" tools out there. It just has more accurate data.
And while you won't get any silver bullets (they don't exist), you'll get amazing insights you can use right away.
Topics Covered:
Google Keywords Planner
Google Display Planner (now part of Display campaign creation)
Using what you find within the planners
5
External Research Tools
While Google's own tools are great, you can use external tools to increase your targeting footprint and find new opportunities, audiences, and keywords to target to gain higher conversion volume.
Topics Covered:
SpyFu, SEMRush
WhatRunsWhere
6
Search & Shopping Temperatures
Many people think all conversion intent is the same when it comes to Google Search - but that's far from the truth.
Learn how effective advertisers use the law of PPC temperatures to structure their campaigns to achieve higher levels of ROI.
Topics Covered:
The four pillars of search
The three categories of shopping
The conversion scale for display
7
Display & YouTube Temperatures
Most people believe that Display and YouTube are for brand awareness and impressions. Many smart advertisers however have made Display and YouTube generate higher ROI than Search and Shopping.
Topics Covered:
Best performing Display and YouTube audiences
Arsenal of call to actions ready
Smoke testing
8
Search & Shopping Targeting Options
Knowing the basics and advanced options when it comes to targeting is crucial so you know where to focus your efforts.
This fundamental understanding will help you prioritize your build outs and optimizations.
Topics Covered:
Keyword match types
Negative keywords
Remarketing List for Search Ads (RLSA)
Dynamic Search Ads (DSA)
In-Market audience layers
Keyword mining campaigns
9
Display & YouTube Targeting Options
Display and YouTube offer more targeting options compared to Search. This also means that the potential for not getting results is higher.
By understanding which targeting options to prioritize, you'll have an easier and quicker time getting conversion traction.
Topics Covered:
Remarketing
Similar audiences
Placements
Keyword contextual
Audiences
Topics
Demographics
While you won't be spending too much time here, it's important to know all the bells and whistles.
This will help you troubleshoot things faster and speed up the time to achieve your goals.
Topics Covered:
Recommendations
Tools
Reports
Shared Libraries
This is where you'll be spending most of your time. The main dashboard is where all the analytics, data, and optimization routines occur.
Topics Covered:
Custom views
Tabs
Columns
Filters
Your campaign settings set the overall momentum potential and reach of your campaigns. While not difficult to set up, it's important you understand the different options you have.
Topics Covered:
Campaign types
Campaign goals
Campaign settings
Your ad groups house your targeting and ad creative. The way that you set these up are crucial to your success - and it all comes back to the principle of granularity.
Topics Covered:
Ad creative
Targeting variety
Single keyword ad groups/single layer ad groups
14
Filters, Scripts, Rules, & Software
Before you start making adjustments to your campaigns and ad groups, it'll be smart to have some safety nets that help you catch issues and help you make changes with ease.
Topics Covered:
Google Ads filters
Google Ads scripts
Google Ads rules
Google Ads Editor
Kite Software
15
Weekly Optimization Routines
To simplify and prioritize your manual changes in your Google Ads account, it's important you know which things matter most and which things don't.
Topics Covered:
Ad testing
Bid adjustments
Negative keywords
Keyword expansion
Automatic placements
16
Monthly Optimization Routines
Doing work for the sake of doing it isn't fun, so to simplify your life even more, here are some of the bigger needle movers that will help you achieve your Google Ads goals.
Topics Covered:
Device bid adjustments
Time based bid adjustments
Geographic bid adjustments
Search partner performance
Micro conversion tracking
17
Keyword, Audience, & General Expansion
When you're in a great spot with your cost per conversion and ROAS is looking good, it's time to scale your volume to grow your overall profit and revenue.
Topics Covered:
Keyword expansion
Display & YouTube expansion
Geographic expansion
New offer/CTA creations
Show off your hard-earned skills and strengthen your profile.
LinkedIn found that people who add credentials to their profile receive 6x more profile views than those who don't.
Add your certificates to your profile, share your accomplishments with the world, and join our alumni network.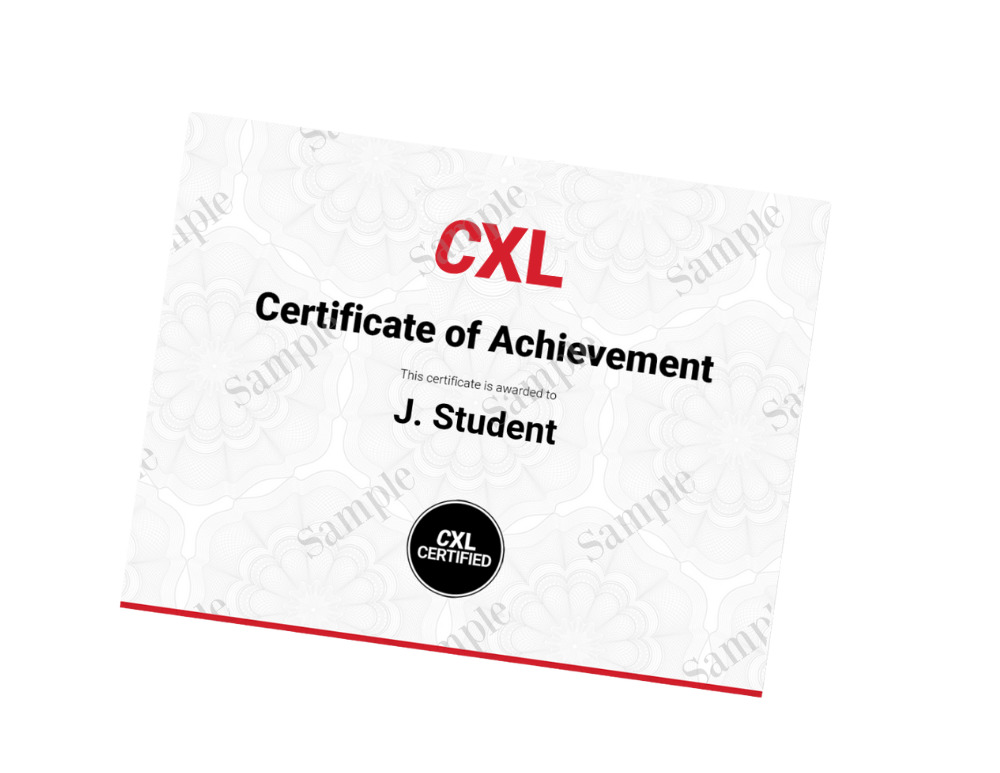 Learn marketing on the job.
Get better results with networking.
Our Marketing playbooks community gives you peer support for every marketing task you face.  90% of marketing tasks are not unique. Someone has already figured it out. Achieve more with less hassle.
Access our library of thousands of marketing playbooks, each showing you how to do a specific marketing task in 10 steps or less, with real-time peer support.
Join our community of marketing experts, ready to support you in getting that promotion or master new strategies, skills, and channels.
Network with some of the world's best marketers and companies and get noticed, hired, or endorsed.
Subscribe to CXL and get access
90+ courses (full list here) on all aspects of data-driven marketing (new courses added every month)
10 minidegrees that give you advanced level skills
Playbook community with 2500+ instructions and peer-support
Got a team, multiple users? Get our Teams All-Access plan instead.
The CXL guarantee
7-day no questions asked money back period
You can immediately apply learnings and improve your results.
Need help convincing your boss?
Click here for a pitch deck, swipe files and tips.
Subscribe to CXL
All plans come with a 7-day trial for $1.
Get access to this and 90+ other training programs.
See plans and pricing
or
Request demo (for teams 5+)
Some of the companies that train their teams at CXL: