Become great at email marketing
Start getting 20x returns from email marketing
Learn how to build lists fast, what to send that works, and how to make your email marketing data-driven.
Online course:
Email marketing: Master the fundamentals
By Jessica Best,
VP of Data-Driven Marketing @ Barkley
Course length: 4h 00min
Start 7-day trial for $1
Some of the companies that train their teams at CXL:










What if each email you sent earned you a 2000% return on investment?
Email marketing (yes, STILL) rocks the highest return on investment of any medium, garnering on average $28 for every $1 you invest.
That is, if you do it right. This course will teach you how.
Get a lesson preview
In just 4 sessions, you'll be able to…
Optimize your email list growth to grow your revenue from email.

Improve your email content to grow your return on email investment.

Turn your email program into data-driven marketing machine that drives results.

Avoid errors that email marketers often (still) make.
This course will help you grow your email marketing program to the next level
Do you know how much revenue you make per email subscriber? From driving engagement to fine tuning your list and timing, Jessica Best, self-proclaimed email marketing dweeb, will help you get your current strategy in the best shape it can be
You will:
discover how to grow a large subscriber base fast,
get the latest info in content and creative that works,
learn how to make your email marketing totally data-driven.
So you can finally start earning that $20-to-$1 return on investment.

Atanas Piskachev
The teacher was full of energy and enthusiasm. She makes it 10 times easier to understand and remember the information.

Alexander Chafe
I really liked the instructor and seeing Jessica's real-world experience/examples. I've already started implementing learnings from this course with great results!
This course is right for you if…
Create the strategy, content, or send schedule for your company's email marketing campaigns

Haven't had any formal training in email marketing but still lead the charge for your company

Have been doing email marketing for years but suspect you aren't getting a $20+ return on investment

Haven't dipped much into email marketing
This course is probably not for you if…
You're already doing 10-point email journeys based on data from multiple sources/databases

You want to scrape email addresses off the internet and send them every email you possibly can
Skills you should have before taking this course
Basic marketing knowledge — academic or experience — isn't required but will help, since we'll apply many known principles of marketing to email marketing specifically

This course will offer a "running start" for those new to the field, but each class will contain something that even a practitioner of email marketing can learn from!
Jessica Best
VP of Data-Driven Marketing @ Barkley
Jessica is a self-admitted numbers nerd. She's worked to lift ROI in customer- and data-driven marketing for a broad range of brands like Dairy Queen, Spirit Airlines, Winnebago, Planet Fitness, Beauty Brands, Hostess, Water.org, Farmland Foods, Hallma …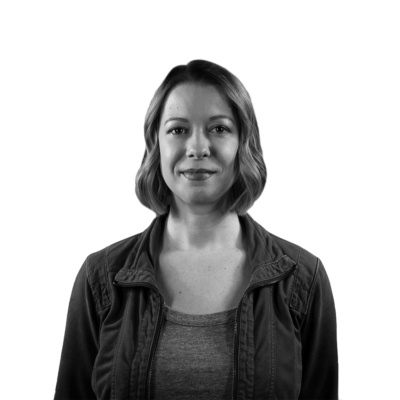 Jessica is a self-admitted numbers nerd. She's worked to lift ROI in customer- and data-driven marketing for a broad range of brands like Dairy Queen, Spirit Airlines, Winnebago, Planet Fitness, Beauty Brands, Hostess, Water.org, Farmland Foods, Hallmark Baby, At Home, Banfield Pet Hospitals, SelectQuote, and Boulevard Brewing Company, and more.
Jessica also spreads the good word of great email marketing from the stage. She's lead trainings and spoken in front of audiences from dozens to over 1200 from Las Vegas to Barcelona, and Vancouver to SXSW Interactive in Austin. In 2016, she joined the Barkley team as VP of Data-Driven Marketing, implementing the best practices she preaches for Barkley clients.
Course overview
Transcript viewer loading...
Your full course curriculum
Email marketing
1
Email Marketing Basics: The Good, the Bad & the WOW!
5 things you should always do in email marketing and 5 things you should never do. (Plus some killer examples to borrow from!)
Topics covered:
Maximize your email marketing by avoiding the spam folder
Optimize your email content for all devices and accessibility settings so each email can help earn you responses
Know the law so you don't fall prey to it accidentally in today's privacy-focused world
2
How to Optimize Your Email Marketing List Growth
In the users' inbox, they're the boss. You have to earn your way in through offering value and asking permission. That doesn't mean you have to do it slow-and-steady, though. Jessica will share with you the best ways -- free and paid -- to grow your email subscriber list.
Topics covered:
Warnings about the WRONG way to build your list, including what the law allows
4 keys to grow your list faster organically (meaning without cash investment), using the content and channels you're already managing now
How to grow faster by adding (or shifting) budget to email list growth
3
Optimizing Email Marketing Copy & Design
Sure you know a few best practices, but if you've been doing email marketing for any amount of time, you know there are… let's call them "quirks" to designing and writing for email. In this course, you'll hear 12+ years of trade secrets, plus trends in email design and copy in today's inboxes that you might wanna try.
Topics covered:
Navigating accessibility in email design for a great experience on all (most) devices for all (most) users
How to incorporate rich media into your email design (but not lose your hard-won accessibility)
Dynamic images and 2 more trends to test with your own campaigns
4
Using Data to Drive Email Marketing Relevance and Results
The real powerhouse of email is its ability to be customized to every single subscriber, prospect and customer on your list. In this class, Jess shares how to be setup for data-driven email success, and what types of data help move the needle. Plus, she'll show you how to use your data to prove what campaigns are working.
Topics covered:
Speaking "1-to-1" to your subscribers using variable data
3 automated email campaigns you should be doing
Tracking what is moving the needle in your email marketing campaigns
Show off your hard-earned skills and strengthen your profile.
LinkedIn found that people who add credentials to their profile receive 6x more profile views than those who don't.
Add your certificates to your profile, share your accomplishments with the world, and join our alumni network.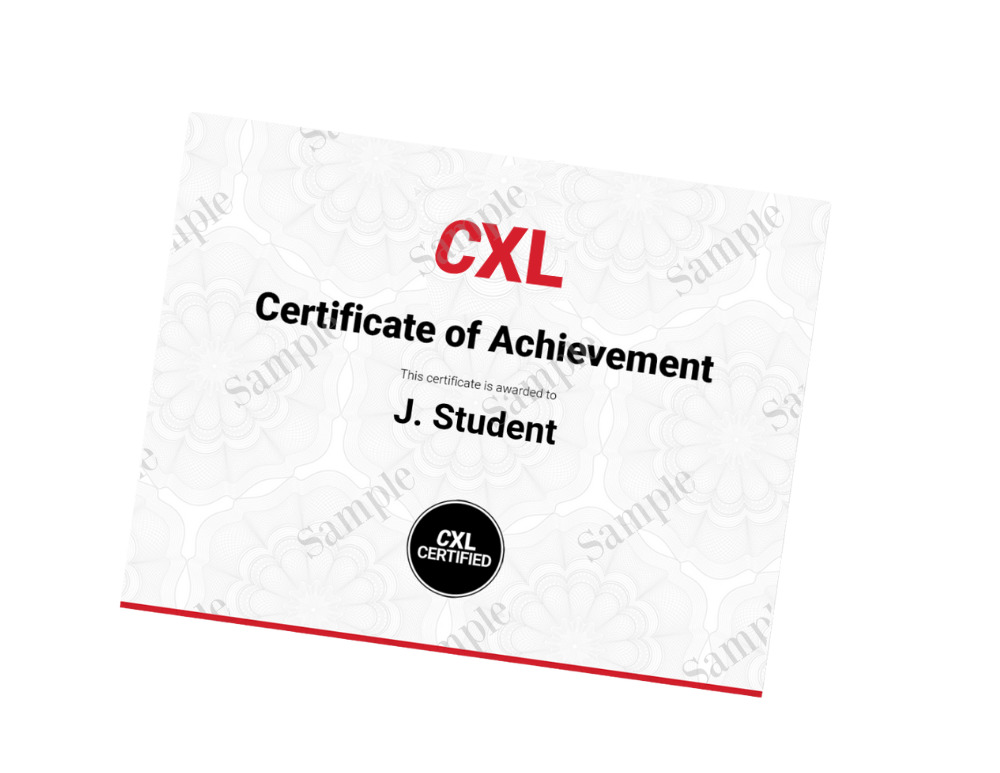 Learn marketing on the job.
Get better results with networking.
Our Marketing playbooks community gives you peer support for every marketing task you face.  90% of marketing tasks are not unique. Someone has already figured it out. Achieve more with less hassle.
Access our library of thousands of marketing playbooks, each showing you how to do a specific marketing task in 10 steps or less, with real-time peer support.
Join our community of marketing experts, ready to support you in getting that promotion or master new strategies, skills, and channels.
Network with some of the world's best marketers and companies and get noticed, hired, or endorsed.
Subscribe to CXL and get access
90+ courses (full list here) on all aspects of data-driven marketing (new courses added every month)
10 minidegrees that give you advanced level skills
Playbook community with 2500+ instructions and peer-support
Got a team, multiple users? Get our Teams All-Access plan instead.
The CXL guarantee
7-day no questions asked money back period
You can immediately apply learnings and improve your results.
Need help convincing your boss?
Click here for a pitch deck, swipe files and tips.
Subscribe to CXL
All plans come with a 7-day trial for $1.
Get access to this and 90+ other training programs.
See plans and pricing
or
Request demo (for teams 5+)