Become great at building an SEO-driven editorial calendar
Maximize traffic with an SEO-driven editorial calendar
Online course
By Dan Shure,
Owner @ Evolving SEO
Course length: 2h 42min
Start 7-day trial for $1
SEO shouldn't be an afterthought. It should be the backbone of your content strategy.
As a content marketer, you know planning your editorial calendar with SEO growth in mind is really hard.
How do you know what keywords to use and how many pages you need to actually rank?
Whether you're an editor, strategist or writer, you can't just treat SEO as nice-to-have. It should be the backbone of your content strategy.
After taking this course, you'll:
Have a proven process for how to build your SEO editorial calendar from scratch.
Understand everything from keyword research to pairing topics with the right content type.
Know how to find topics that will rank and get you more traffic.
Strategically align SEO, marketing and business goals in order to sustainably grow site traffic.

Laura B.
The content is insightful, actionable and doable.
I appreciate the range of topics and the talent and expertise of the presenters. I've grown more as a marketer in the last several months than I had in years before.

Alex B.
CXL has helped me tremendously in my journey to become the best digital marketer I can be.
It has opened my eyes to the capabilities of tools like GTM and Google Sheets. You guys have humbled me by teaching me that there's so much more to learn!

Ap S.
CXL is just the best place to grow for a marketer. I learned more in a few months via CXL than what I learned in 8, 9 months on my own.
This course is right for you if you are…
Struggling to fill your content calendar with topics to help grow search traffic and rank.
Not sure when a page should target multiple keywords or just one.
Confused by all the different SEO myths and advice – like the "right" length of content or where to put keywords in your content.
This course is NOT for you if you are…
Have no idea what SEO or search volume mean.
Only interested in creating content and prefer leaving the SEO stuff to someone else.
Skills you should have before taking this course…
Basic Google Sheets skills
Basic understanding of keyword metrics like search volume or the idea of keyword difficulty
Experience with content – writing, planning or strategy.
Dan Shure
Owner @ Evolving SEO
Dan is an SEO consultant and co-owner of Evolving SEO with his wife Sarah. As a consultant, he has helped companies like WGBH (Boston's NPR and PBS), Sumo, HBR and more solve challenging SEO problems and grow traffic up to 20x. His popular, entirely se …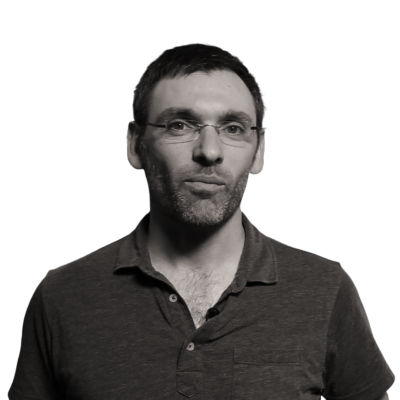 Dan is an SEO consultant and co-owner of Evolving SEO with his wife Sarah. As a consultant, he has helped companies like WGBH (Boston's NPR and PBS), Sumo, HBR and more solve challenging SEO problems and grow traffic up to 20x.
His popular, entirely self-produced SEO Podcast "Exports on the Wire" has amassed almost a half a million downloads since launching in 2016.
Dan's SEO articles and interviews have appeared in publications such as The Next Web, Drift.com, Moz and Entrepreneurs on Fire — and he has spoken at leading marketing conferences like Social Media Marketing World, Content Jam and SMX.
Your full course curriculum
SEO driven editorial calendar
1
How to brainstorm topics: using art & science
In the first lesson you will learn how to start with a blank canvas and arrive at a few dozen high opportunity seed topics. You will be given a starter template which you will use to complete the brainstorm and topic ideation portion of developing a content calendar that drives SEO growth.
Topics Covered:
Establish Content Goals
Keyword Research
Competitor Identification
"Tangent" Topic Research
2
80/20 Content prioritization: focusing your content plan
You have a list of great potential topics. But what do you even start with? Resource constraints are a reality, so you need to plan content with the highest value options in mind. In this class you will learn how to prioritize your content based upon actual search opportunity.
Topics Covered:
Keyword analysis
SERP analysis
3
Building out your content calendar: aligning keywords to pages
This is the part where most SEO content planning projects fail. You've identified and prioritized keywords and topics. But how does that translate into pages, posts, guides, "hubs"? You will be shown exactly how to best align topics to pages and content types.
Topics Covered:
SERP analysis
Content Types
Content Calendars
4
The real best practices of content-based SEO (executing your content plan)
Based on over 10 years of experience, hundreds of clients and thousands of hours of teaching, training and doing content-based SEO - you will learn Dan's real list of best practices. You'll learn about page length, keyword targeting and the top ingredients of rank-worthy content. You will also learn how to properly measure the success of your content plan - and how to get full credit for all the hard work you've put in!
Topics Covered:
On-page SEO
Content Creation
Measuring Content Success
Show off your hard-earned skills and strengthen your profile.
LinkedIn found that people who add credentials to their profile receive 6x more profile views than those who don't.
Add your certificates to your profile, share your accomplishments with the world, and join our alumni network.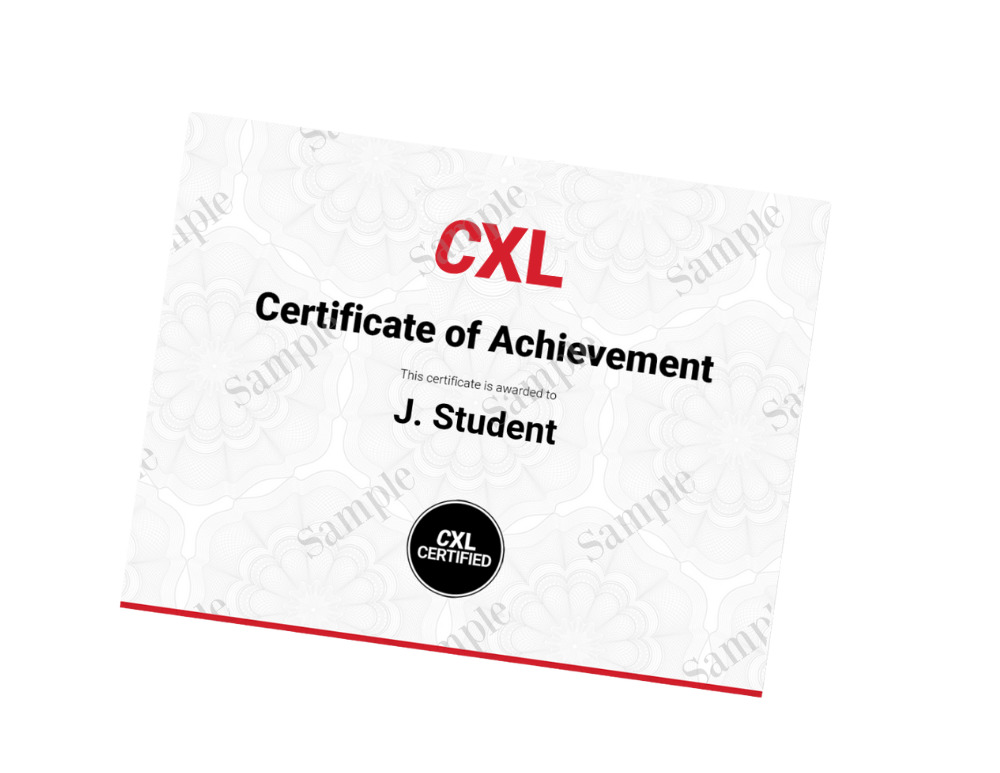 Learn marketing on the job.
Get better results with networking.
Our Marketing playbooks community gives you peer support for every marketing task you face.  90% of marketing tasks are not unique. Someone has already figured it out. Achieve more with less hassle.
Access our library of thousands of marketing playbooks, each showing you how to do a specific marketing task in 10 steps or less, with real-time peer support.
Join our community of marketing experts, ready to support you in getting that promotion or master new strategies, skills, and channels.
Network with some of the world's best marketers and companies and get noticed, hired, or endorsed.
Subscribe to CXL and get access
90+ courses (full list here) on all aspects of data-driven marketing (new courses added every month)
10 minidegrees that give you advanced level skills
Playbook community with 2500+ instructions and peer-support
Got a team, multiple users? Get our Teams All-Access plan instead.
The CXL guarantee
7-day no questions asked money back period
You can immediately apply learnings and improve your results.
Need help convincing your boss?
Click here for a pitch deck, swipe files and tips.
Subscribe to CXL
All plans come with a 7-day trial for $1.
Get access to this and 90+ other training programs.
See plans and pricing
or
Request demo (for teams 5+)
Some of the companies that train their teams at CXL: