Become great at heuristic analysis for conversion optimization
Learn frameworks to guide your CRO strategy
How you approach conversion optimization determines how successful your efforts will be.
Online course:
Heuristic analysis frameworks for conversion optimization audits
By André Morys,
CEO & Founder @ konversionsKRAFT
Course length: 2h 30min
Start 7-day trial for $1
Some of the companies that train their teams at CXL:










Find massive conversion opportunities faster than ever.
If you've got a list of tactics, you'll likely fail and your conversion optimization program will fizzle out. If you've got strategic frameworks and processes, you'll win.
This action-packed course will teach you how the top experts approach CRO.
After this course, you'll…
Have proven frameworks to guide your conversion optimization strategy.
Be able to apply cognitive psychology and persuasion principles to understand user motivations.
Provide a structured way to add more value to your CRO program right out of the gate.
Tap into opportunities for conversion lifts with better ideas and tactics.

Adam Karlsson
Andre's own growth model really sums up CRO. I haven't seen anything similar before.

Josh Kenneth Gunio
Andre really knows his topic on an intimate level. He delivered the course eloquently and made me understand it deeply.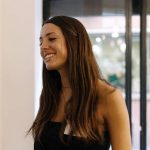 Giulia Bao
This course helped me realize how much important it is to prioritize hypothesis. It also taught me to be more analytical and to predict users' behavior in order to facilitate their journey and lead them to conversion.
Draw out better insights, test ideas and get ROI.
Heuristic analysis is an expert-based analysis that uses experience-based techniques for problem-solving, learning, and discovery.
Done right, it allows you to save time and money as well as helps you find opportunities you may not see simply from analytics or user research.
There are many conversion heuristic frameworks, but they all start with the same goal: to enable a structured framework by which we can judge a digital experience.
No top conversion optimization agency, consultant, or specialist operates without a heuristic framework of some sort, and neither should you.
Uncover untapped conversion opportunities with heuristic analysis.
Digital analytics can hide crucial insights. Similarly, user testing and session replays don't show you everything.
By using a heuristic framework, you can uncover opportunities you may not have with other forms of conversion research. It's another important tool in an optimizers toolbelt.
Prioritize to get more out of your CRO program
It's one thing to look for elements on a website that signal "distraction" or "lack of trust," and to make a note of them. It's another to know how to prioritize your opportunity areas to maximize efficiency and ROI.
Let's put it this way: every business website has limited traffic (even Amazon). So, prioritization is important to every company – big or small, well-funded or scrappy. This course will incorporate prioritization and program management, so you're not simply left with a massive list of "would be nice" items.

Without a doubt some of the best courses with relevant and practical topics that you can start implementing today.
This course is right for you if…
You work in conversion optimization or UX and want to improve revenue and conversions.
If you work with analytics and want to learn to improve your numbers.
If you're a product owner or product manager working on building products that customers love.
André Morys
CEO & Founder @ konversionsKRAFT
André has been an optimizer for more than 20 years and has been sharing his passion for optimization with others for nearly 10 years as an international keynote speaker, blogger and author. André is co-founder of konversionsKRAFT, a network of leading …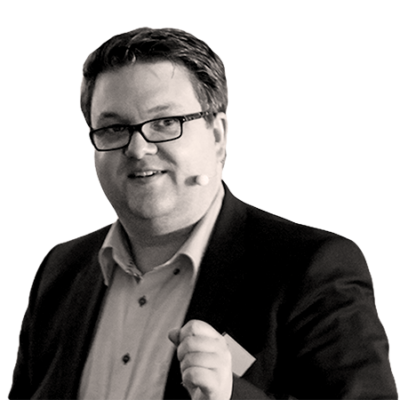 André has been an optimizer for more than 20 years and has been sharing his passion for optimization with others for nearly 10 years as an international keynote speaker, blogger and author.
André is co-founder of konversionsKRAFT, a network of leading optimization agencies across the world. He is also a university lecturer and recently received an award as Germany's Best Employer out of hundreds of participants.
Your full course curriculum
Heuristic Analysis Frameworks for Conversion Optimization Audits
1
Introduction to heuristic evaluation
In our first session, we'll go into some pros and cons of running expert heuristic evaluations. We'll also teach you how to amplify the positive effects of heuristic evaluation with persona development. Finally, we'll go over some pitfalls of user research and mistakes to avoid.
At the end of class one, you'll understand how to conduct a proper expert evaluation in under 60 minutes.
When a user lands on a website, they will ask the question, "is this the right website for me?"
This class will teach you how to answer that question affirmatively. We'll go over the shopping window analogy and how it relates to landing pages, how to quantitatively and qualitatively measure relevance on your landing pages, and the difference between implicit and explicit communication. We'll also cover the power of emotional optimization and how to use confirmation bias to reduce your bounce rates.
Forget the 10-second rule: You have 50 milliseconds to nail your first impression.
This class will cover anticipated credibility (and how to use it), how to use cognitive biases if your brand is not very popular, and how to avoid cognitive dead-ends.
4
Stimulating users to buy
This class will dive into implicit user motivations and how to find the buy button in the mind of your users. It will cover value propositions in depth - the different types of value props, and how to analyze and improve your own. We'll also cover psychological triggers like motivation, urgency, and scarcity.
5
Security and convenience
It's not all about persuasion triggers. Users also anticipate easiness and evaluate trust and security when navigating the web. This class will teach you how to analyze these behaviors and improve upon your current state of ease and security. In addition, we'll cover forms and checkouts, and how to build security and ease measures here.
Users may make emotional or irrational decisions, but they also seek to justify those decisions through confirmation and rational thought. This class will cover that confirmation effect and will teach you how to analyze and optimize for everything that happens after the conversion. The effect of this will be to increase customer lifetime value and repeat purchases.
Your own cognitive biases are the single biggest danger to the validity of evaluation. In this class, we'll teach you to mitigate those negative effects, improve the validity and objectivity of your results, and how to report the results to different target groups to spark action.
Show off your hard-earned skills and strengthen your profile.
LinkedIn found that people who add credentials to their profile receive 6x more profile views than those who don't.
Add your certificates to your profile, share your accomplishments with the world, and join our alumni network.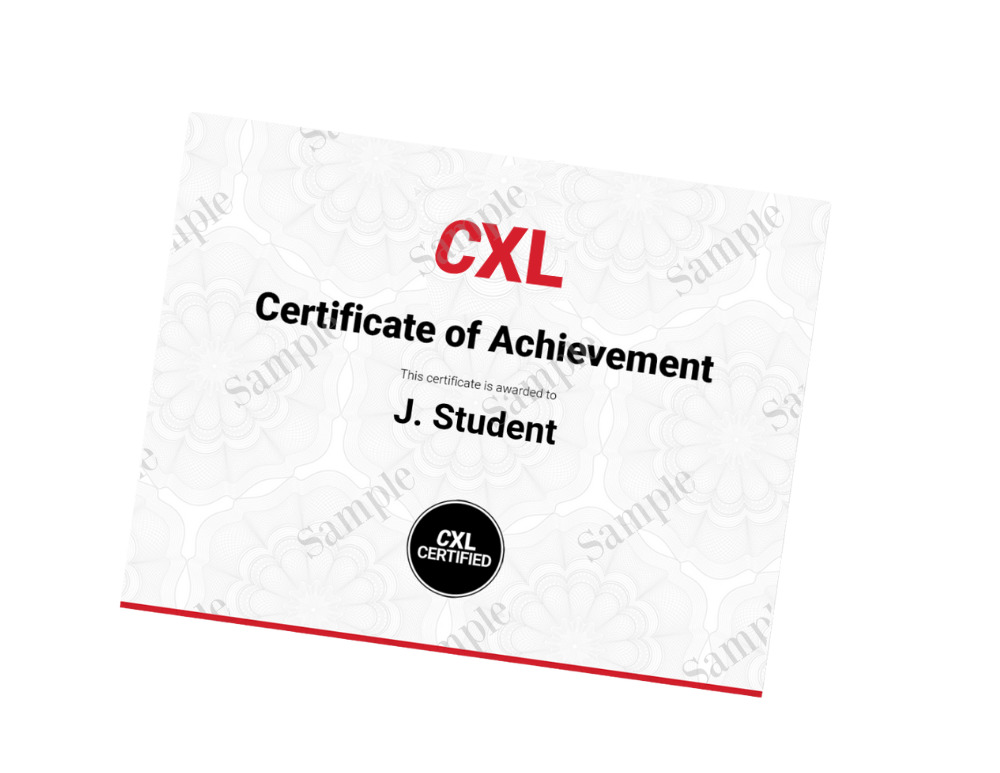 Learn marketing on the job.
Get better results with networking.
Our Marketing playbooks community gives you peer support for every marketing task you face.  90% of marketing tasks are not unique. Someone has already figured it out. Achieve more with less hassle.
Access our library of thousands of marketing playbooks, each showing you how to do a specific marketing task in 10 steps or less, with real-time peer support.
Join our community of marketing experts, ready to support you in getting that promotion or master new strategies, skills, and channels.
Network with some of the world's best marketers and companies and get noticed, hired, or endorsed.
Subscribe to CXL and get access
90+ courses (full list here) on all aspects of data-driven marketing (new courses added every month)
10 minidegrees that give you advanced level skills
Playbook community with 2500+ instructions and peer-support
Got a team, multiple users? Get our Teams All-Access plan instead.
The CXL guarantee
7-day no questions asked money back period
You can immediately apply learnings and improve your results.
Need help convincing your boss?
Click here for a pitch deck, swipe files and tips.
Subscribe to CXL
All plans come with a 7-day trial for $1.
Get access to this and 90+ other training programs.
See plans and pricing
or
Request demo (for teams 5+)