Acquire more lucrative traffic while recovering lost sales

Online course:
Advanced organic acquisition

By Adam Melson,
Associate Director, Business Strategy @ Seer Interactive
Course length: 10h 00min
Start 7-day trial for $1
Some of the companies that train their teams at CXL:










In this 8-part training program, you will learn to
Discover and capitalize on gaps in current search results.
Evaluate how your site factors into the customer journey so you can get in front of missing segments.
Create valuable, traffic-driving, on-page content that isn't stock SEO copy.
Identify fallen referral sources and reclaim their traffic and links.
Fix and futureproof yourself against algorithm updates/penalties.
Get twice the value out of the same SEO efforts
There are SEO tips everywhere. Blogs, conferences, books, videos. But here's the problem: most of them are low value, not tested, and simply don't work most of the time.
The result? As SEO professionals, we're working too hard to get too few results.
What happens when you spend tons of time and effort building an asset, and no one uses it?
When no one responds to outreach, what then?
In this course we'll dive into detailed approaches on building content and SEO assets that actually bring traffic and conversions.
In short, we'll teach you to focus on high value activities that have been proven to work at scale and over the long term (not just short term wins or BS "hacks" some blogger wrote about).
Find content gaps and outrank the competition
SEO is increasingly competitive. Despite the constant hyperbolic calls of SEO's demise, it's abundantly clear you can build a business off of organic acquisition and that many businesses continue to prioritize organic acquisition efforts.
Organic traffic acquisition can also touch all stages of the customer journey and buying cycle. Top-of-the-funnel efforts can widen your reach and you can target user stages to continuously bring more customers and business value.
All it takes is a little audience research and content gap identification.
In this course, we'll teach you a process for uncovering these gaps and forgotten customer segments. This process will essentially teach you to steal traffic from the competition and put money back on the table.
Recover lost traffic and keep it forever
What happens when Google makes a change that suddenly takes away 90% of your organic traffic? What happens when you're penalized?
While many people in this course haven't experienced a drop that drastic, it happens. We'll show you how to pinpoint traffic losses early to mitigate negative effects and plug holes before they become business problems. Nothing is more devastating than losing hard earned traffic.
In addition, this course will teach you how to analyze referrals regularly and to coordinate with internal and external teams to recapture money, traffic, and links.
This course is right for you if…
You're a hands-on digital marketing practitioner who wants to crush their traffic goals and bring more revenue and conversions consistently.
You've hit a plateau in your traffic generation efforts. Whatever you do, it's hard to move the needle significantly.
You've tried tools and tactics that have fallen flat – even though that one guy at that conference said it made him millions.
This course is probably not for you if…
You're a CMO or marketing VP removed from being a day-in day-out practitioner.
You're looking for quick & clever link wins. No silver bullets to be found here.
You launched your site very recently and know you need SEO. If that's the case, look into CXL's foundational traffic acquisition course. This one will be more advanced.
Skills you should have before taking this course
Intermediate knowledge of SEO. We're not talking log analysis level, but if the words "canonical" or "robots.txt file" intimidate you, this is likely not the best choice at the moment.
Working knowledge of Microsoft Excel or Google Sheets. If words like "pivot table" and "concatenate" intimidate you, brush up on a short Excel course in preparation for this one.
Basic Google Analytics knowledge. Here's an introductory course from CXL.
Adam Melson
Associate Director, Business Strategy @ Seer Interactive
Adam Melson is in an Associate Director at Seer, ensuring clients are getting a return on the investment they're making and ensuring solid strategy is being implemented. He enjoys the ever-changing puzzle a website creates and finding the best way to p …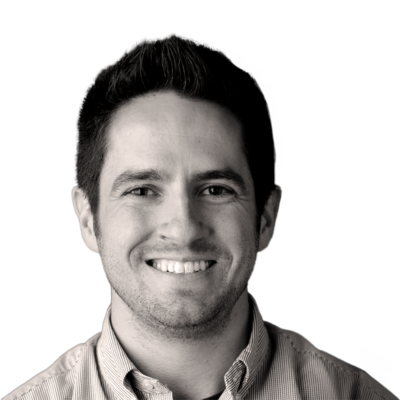 Adam Melson is in an Associate Director at Seer, ensuring clients are getting a return on the investment they're making and ensuring solid strategy is being implemented. He enjoys the ever-changing puzzle a website creates and finding the best way to piece together the right solution.
Prior to Seer, Adam worked at a financial job for a year as well as a kiosk software startup, KioWare (love those guys) where he worked on tradeshows, PPC, sales support, product support & overall marketing.
Your full course curriculum
Advanced Organic Acquisition
1
Acquisition through Content Gaps
This class will be an introduction to finding, executing on, and measuring the results of content gap analysis. You'll discover areas in which you're missing customer segments and how to craft strategies to capture that valuable traffic.
2
Acquisition through Referral Sources
In this chapter, we'll review how to ensure you're keeping what you've earned. You'll need to be able to pull referral sources, traffic, and hopefully conversion data from your analytics suite for the first part of this chapter.
We'll also cover how to make the most of your connections and internal teams to build long term and valuable referral traffic.
3
Acquisition through Assets
Content assets are a wonderful way of breaking through the nice, but you have to figure out the right asset to build to drive ROI and solve customer needs.
This asset might be a coupon page, scholarship, infographic, survey, or something else entirely.
We'll go through how to identify the need. Half of building an asset is doing it well, and we'll review assets done right, as well as those done simply to get traffic or a few backlinks.
4
Humanizing the Experience
How do you share that you're a real company with others? How do you show you want to build relationships? From responding to poor reviews to giveaways and fulfilling wishes of your customers, we'll look at how to show you're a relationship building company to help grow traffic in the long run.
This class will also cover how to solve searchers' problems at each stage of the funnel and how to incorporate social good into a growth program.
5
How Penalties & Algorithm Updates Impact Traffic
There's a theme in the latter classes, and it's that you need to keep the traffic you already have. It's yours and you've likely worked hard to get it.
Here, we'll review algorithm updates, penalties, and the steps you can take to remediate them.
6
Quick Wins: Where's the Low Hanging Fruit?
In this chapter, we'll cover how to make meta-descriptions into a converting traffic driving machine, how to identify roadblocks preventing people from converting easily, and how to optimize what you already do to get some quick wins in terms of traffic and conversions.
7
Setting Yourself up for Success
There are a number of ways you can set yourself up for success prior to even starting some of the strategies we've gone over. By establishing these early, you're able to automate and baseline information to help you make greater traffic gains.
Some of these methods include setting up customer traffic alerts, monitoring the competition, and tools to make things easier and more effective.
Show off your hard-earned skills and strengthen your profile.
LinkedIn found that people who add credentials to their profile receive 6x more profile views than those who don't.
Add your certificates to your profile, share your accomplishments with the world, and join our alumni network.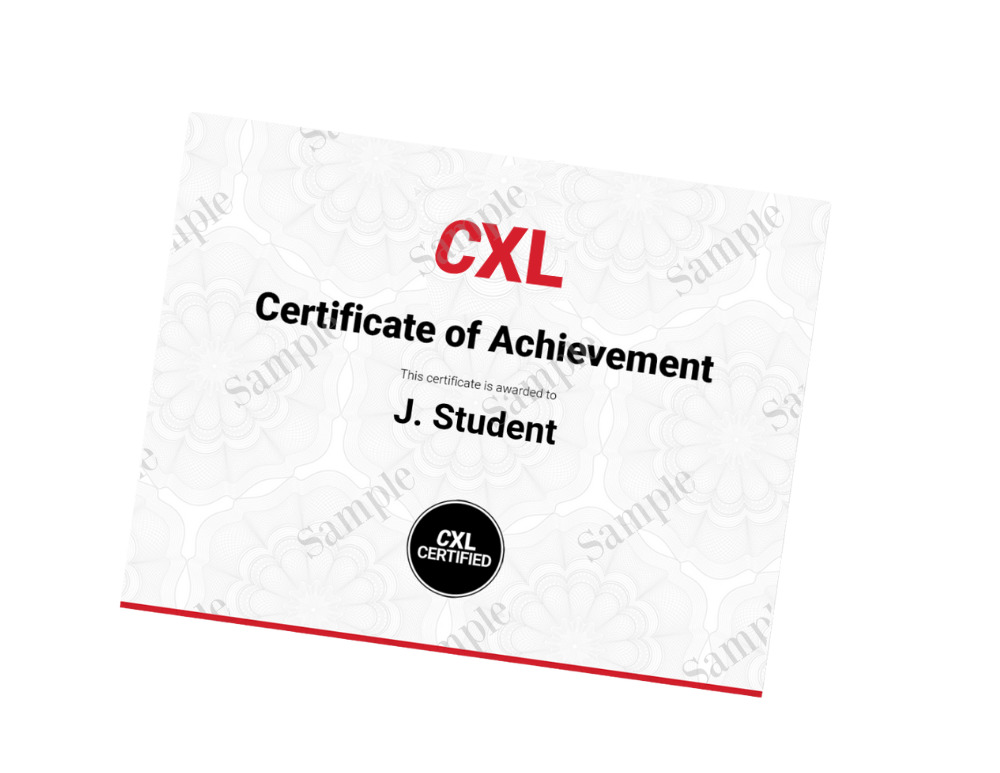 Disclaimer
We firmly stand behind the quality of the content presented in this course. The price has been reduced because it no longer meets our production quality standards.
Please note that this course is a recording of a previous time when CXL held live online courses. It is likely that in the recordings you will see the instructor engage with live audience members. We are currently in the process of updating our content to our new self-paced format.
Subscribe to CXL and get access
90+ courses (full list here) on all aspects of data-driven marketing (new courses added every month)
10 minidegrees that give you advanced level skills
Playbook community with 2500+ instructions and peer-support
Got a team, multiple users? Get our Teams All-Access plan instead.
The CXL guarantee
7-day no questions asked money back period
You can immediately apply learnings and improve your results.
Need help convincing your boss?
Click here for a pitch deck, swipe files and tips.
Subscribe to CXL
All plans come with a 7-day trial for $1.
Get access to this and 90+ other training programs.
See plans and pricing
or
Request demo (for teams 5+)