Become great at advanced experimentation analysis
Go way beyond what most optimization experts know
Online course
By Chad Sanderson,
Head of Product, Data Platform @ Convoy
Course length: 4h 30min
Start 7-day trial for $1
Some of the companies that train their teams at CXL:










From zero to hero in self-serve experimentation
After you take this course, you won't need to rely on what the testing tools say about results.
You'll be able to go into the data yourself, understand it, query it, and perform advanced statistical techniques to get more value than any tool can really give you. That's independence.
Get to the top of the food chain in terms of the best CRO practitioners in the world
Having the ability to dive deep into experimental statistics and analysis using data and code is a skill that very few people have. You will be one of those rare phenomena. This will put you many steps ahead of all those optimization experts out there.
In this course, Chad will peel back the curtain on the world of advanced experimental statistics, data science, and discuss deep experimental understanding. All using common sense language.

Learn what makes data analysis so important and why we should think very carefully about building our own metrics
Understand how to generate sample size (the right way)
Master principles of analysis and metric building
Discover how to build, launch, and analyze experiments offline
Use statistical techniques like regression and time series analysis for CRO
Go beyond traditional A/B testing, focusing on unconventional methods that maybe you haven't heard of before
Generate powerful custom charts to communicate testing results
Start working with R (even – or especially if your most hated thing is jumping into code since you're not a developer).
This course will teach you how to go beyond traditional A/B testing with advanced statistical techniques (no math background required), clear away numerous misconceptions about common and uncommon testing tropes, and open your eyes to the business-wide transformative strength of experimentation.
Ideal for you if…
You are a conversion optimization specialist looking to dive deep into experimental statistics and analysis using data and code
You have a hand in analyzing, interpreting, or reporting the results of digital experiments
Your business or client fully believes in the power of experimentation
This course is probably not for you if…
You are an experienced data-scientist, researcher, or statistician with a deep knowledge of experimental design
You are a CMO or VP. This course is less strategy, and more hands-on functional knowledge.
You are content with the surface level testing results reported by your testing tool
Skills you should have before taking this course:
Intermediate A/B Testing experience. We won't be covering how or why you should be setting up experiments or using a testing tool.
Foundational understanding of analytics best practices and reporting. We expect you to know how to choose and report on important metrics.
Working knowledge of Microsoft Excel or an equivalent. We will be working with data!

Marianne M.
I feel so much more confident in analysis and optimization after taking CXL's courses.
I learn practical techniques that are applicable to any business from the best in class.

Jonathan R.
CXL showed me how to go from no optimization program to a fully matured program, and how to handle all the nuances that pop up along the way.

Gajan R.
If you want to take the next step from dabbling to becoming a real CRO practitioner, the CXL material (plus a lot of practice) will get you there.
Learn processes for getting consistent results from leaders in the field.
Chad Sanderson
Head of Product, Data Platform @ Convoy
Chad Sanderson is a Digital Optimization, Testing, and Personalization specialist focused on the strategy, design, implementation, and analysis of winning experiments. Chad is a passionate believer in the power of data, combining deep actionable insigh …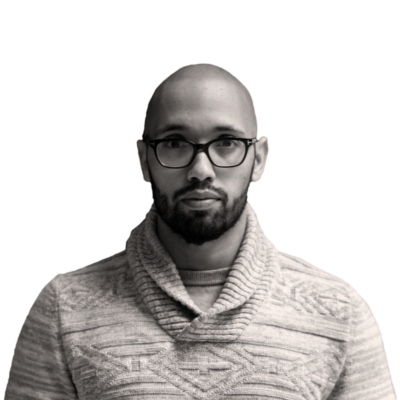 Chad Sanderson is a Digital Optimization, Testing, and Personalization specialist focused on the strategy, design, implementation, and analysis of winning experiments.
Chad is a passionate believer in the power of data, combining deep actionable insights with UX and Content strategy to create better websites and mobile apps.
Your full course curriculum:
Advanced experimentation analysis
In this intro lesson, Chad explores the 'why' of experimentation analysis. When you come to understand the fundamentals, you will learn how to set you and your team apart when launching and managing experiments. By beginning to understand the various approaches of experimental analysis you will discover just how deep the rabbit hole goes.
Topics covered:
Who am I?
What is this course?
What will you learn?
Why is experimentation analysis important?
Testing beyond your tool
2
Principles of Analysis & Metric Building
In this lesson, Chad dives deep into what it means to build metrics and why that's so fundamentally important to experimentation analysis. Analytics in short is looking to data for insight, which is critical in the context of experimentation. Begin to identify what you could be doing and learn how to work on metrics you actively create.
Topics covered:
Why do we need to prepare data?
Formatting data in excel
What is R Studio
Installing R Studio
Reading data
Practice/case-study
3
Diving into Experimentation Analysis
Topics covered:
What is sample size really
The components of sample size
Binomial metrics explained
Sample ratio mismatch
Continuous metrics explained
Practice using R Studio
N2/N1 Ratio
Practice/case-study
4
Deep Experimental Understanding
In this lesson, join Chad as he touches on the immense value of randomization and representational data and how to avoid alpha inflations when creating an honest analysis.
Topics covered:
Ttest/Ztest
X2 Test
Executing tests within R
Segmentation using dplyr
Adjusting p values
Confidence Intervals
Plotting using ggplot2
5
I Have the Power (Analysis)
Topics covered:
Sample size
Size effect
Statistical calculators
Statistical power
6
Beyond A/B testing – Part 1
Topics covered:
What can't we experiment on using an A/B Testing tool?
Regression Discontinuity Designs and Why We Use them
Interrupted Time Series Analysis
Practice/case-study
7
Beyond A/B testing – Part 2
In this lesson, Chad delivers practical advice and tips on experimentation for your organization at large. The lesson touches on areas of experimentation that may put your business at risk and ways you and your can team can design high impact experiments.  
Topics covered:
Other forms of RDD
Practice/case-study
Join Chad in the last lesson to cover all the extra details and quality controls needed for proper experimentation analysis.
Topics covered:
Control vs. Treatments
Setting up proper controls
Response Surface Methodology
Experimentation Brain Storming
Testing offline
Show off your hard-earned skills and strengthen your profile.
LinkedIn found that people who add credentials to their profile receive 6x more profile views than those who don't.
Add your certificates to your profile, share your accomplishments with the world, and join our alumni network.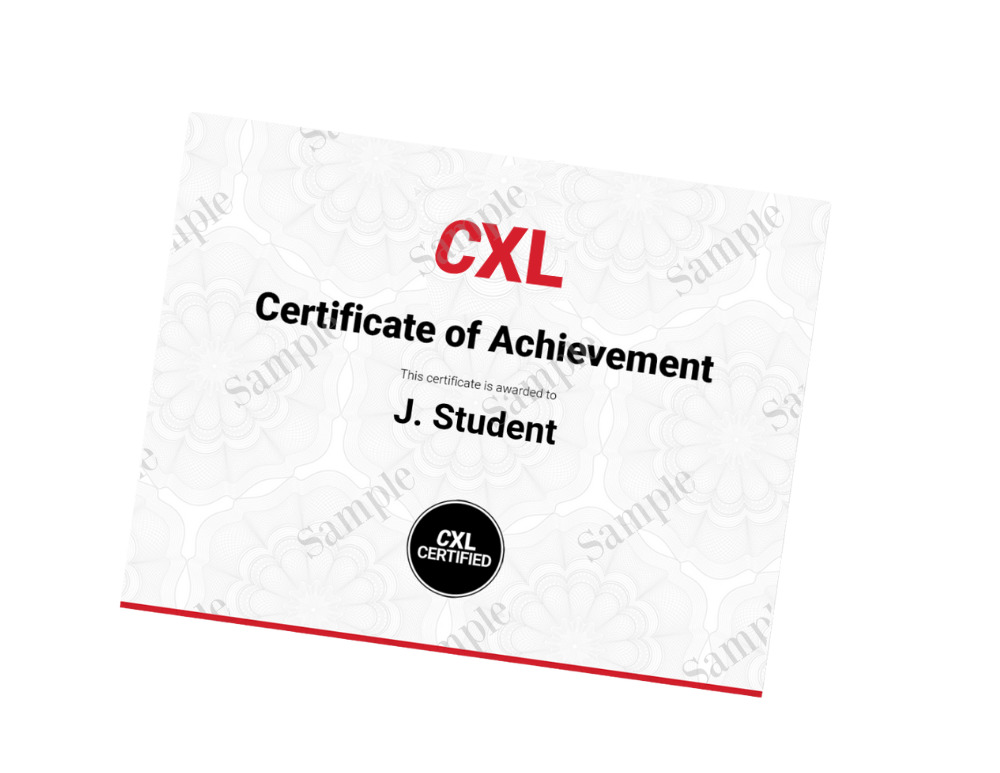 Learn marketing on the job.
Get better results with networking.
Our Marketing playbooks community gives you peer support for every marketing task you face.  90% of marketing tasks are not unique. Someone has already figured it out. Achieve more with less hassle.
Access our library of thousands of marketing playbooks, each showing you how to do a specific marketing task in 10 steps or less, with real-time peer support.
Join our community of marketing experts, ready to support you in getting that promotion or master new strategies, skills, and channels.
Network with some of the world's best marketers and companies and get noticed, hired, or endorsed.
Subscribe to CXL and get access
90+ courses (full list here) on all aspects of data-driven marketing (new courses added every month)
10 minidegrees that give you advanced level skills
Playbook community with 2500+ instructions and peer-support
Got a team, multiple users? Get our Teams All-Access plan instead.
The CXL guarantee
7-day no questions asked money back period
You can immediately apply learnings and improve your results.
Need help convincing your boss?
Click here for a pitch deck, swipe files and tips.
Subscribe to CXL
All plans come with a 7-day trial for $1.
Get access to this and 90+ other training programs.
See plans and pricing
or
Request demo (for teams 5+)