70% of buyers have done their research before they talk to sales, and half of them simply prefer not to talk to sales at all.
Most of your site visitors aren't open to outbound selling.
So, how do you get their attention? By educating, empowering, and entertaining them through demand generation.
Simply put, you turn them into superheroes who understand their problem and know how to solve it: with the help of your product or service.
In this article, you'll learn how to use demand to fuel your lead generation funnel, build relationships, and grow your business.
What is demand generation?
Demand generation is the combination of marketing tactics, strategies, and programs to create awareness and drive interest in your products or services.
It aims to fuel your sales pipeline, shorten the sales cycle, and generate revenue. It doesn't do so by pressuring or coercing people to buy things they don't need, but by providing value.
In other words, it boosts revenue by delivering the right information to the right people at the right time so that they can make confident decisions.
In the digital era, where people are more informed than ever about new products and the companies that sell them, demand generation marketing is critical to the sales process and, ultimately, growth.
Forrester research shows that a person has 27 buying interactions when making a purchase decision.
This includes self-guided interactions (e.g., online research) and personal interactions with friends, colleagues, and providers. 
[Buyers] looked for one-to-many forums like webinars and online events to learn about the category, what other people are doing in the industry, and who the top contenders are. They talked to peers, industry experts, and various provider representatives to get their specific questions answered. They also did a lot of self-directed research checking all sorts of sources, from social media to syndicated content to category- or industry-specific resources.

Beth Caplow, VP and Principal Analyst at Forrester [via Forrester]
A demand generation program engages buyers at every touchpoint throughout the three major stages of the customer journey, from first knowledge of you until they convert into a qualified lead.
1. Awareness. The buyer is experiencing a problem and is researching to understand it.
2. Consideration. The buyer has defined the problem. Now they're researching to understand the available solutions.
3. Decision. The buyer has decided on a solution. Now they're making a list of the best options before making a purchase decision.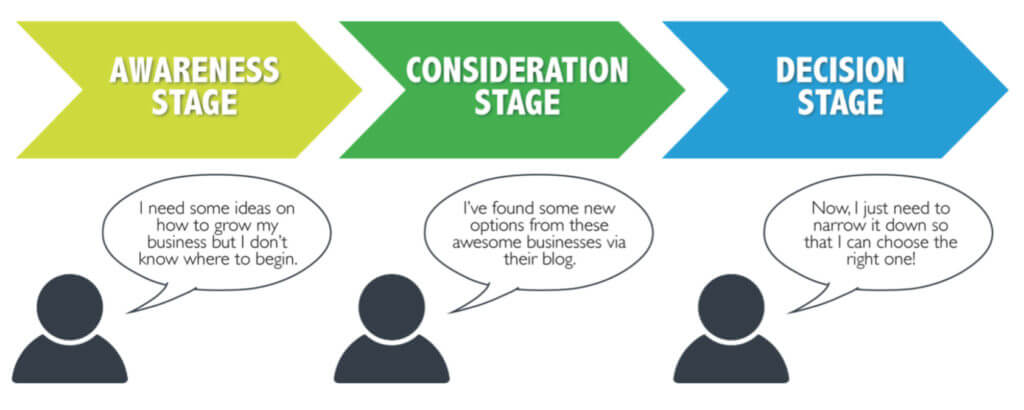 It does this in one of three ways (though often they overlap):
1. Educates;
2. Empowers;
3. Entertains.
Ahrefs, for example, provides a free SEO training course for beginners, educating them on the basics to help them rank higher.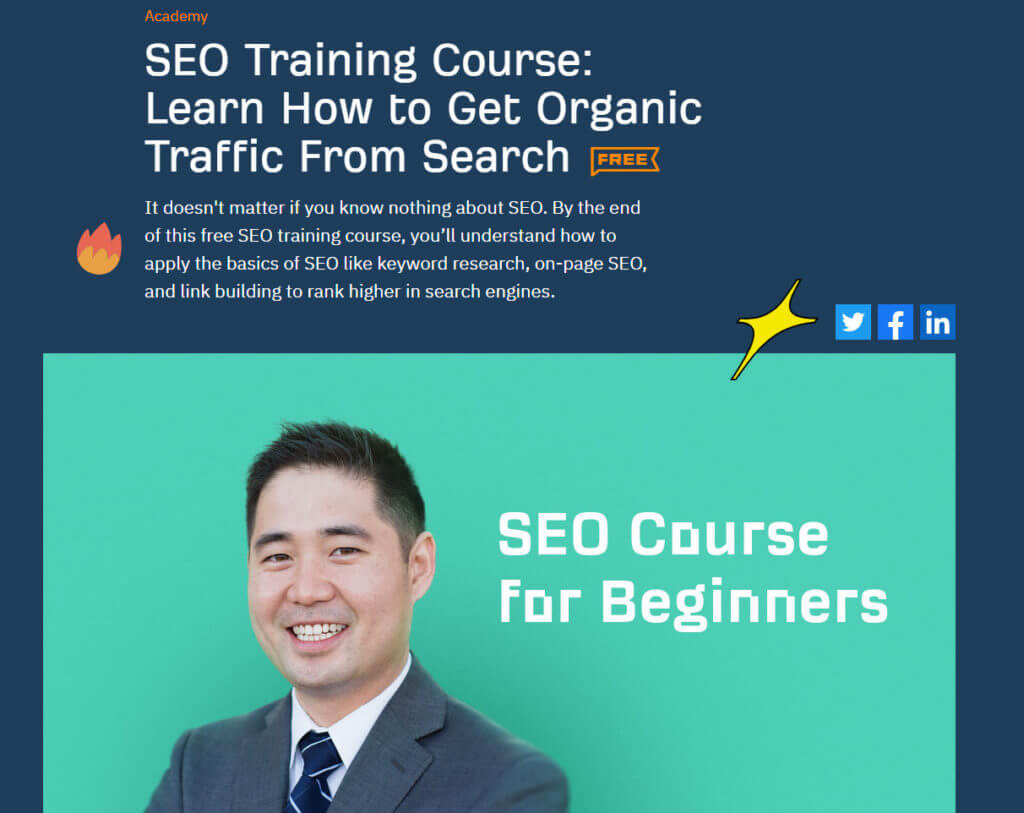 Hubspot's free ideas generator helps people come up with new blog content.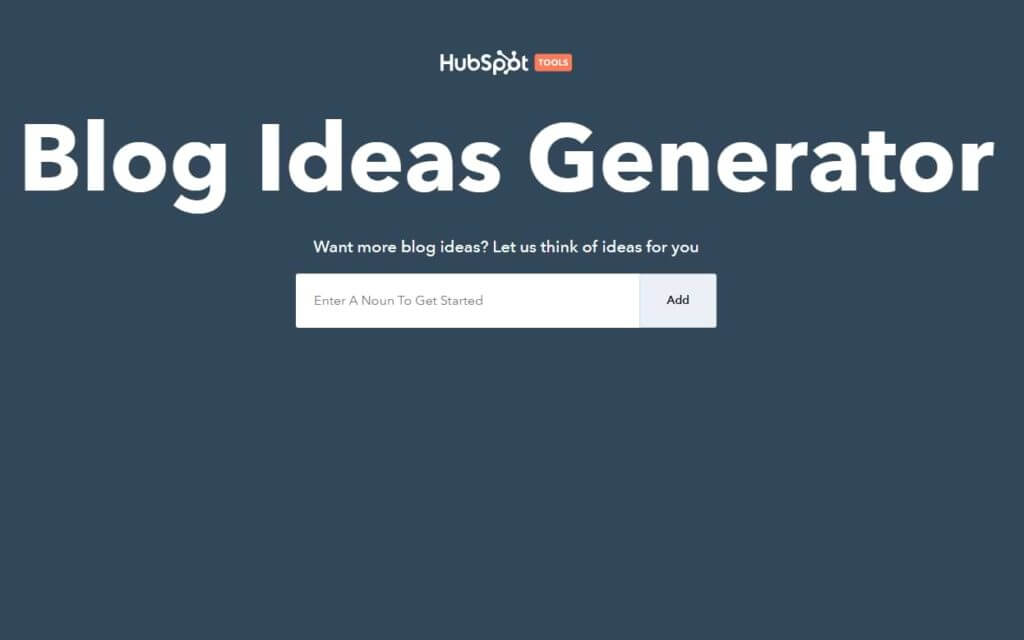 Drift's Insider Podcasts teach business improvement in a fun and entertaining way.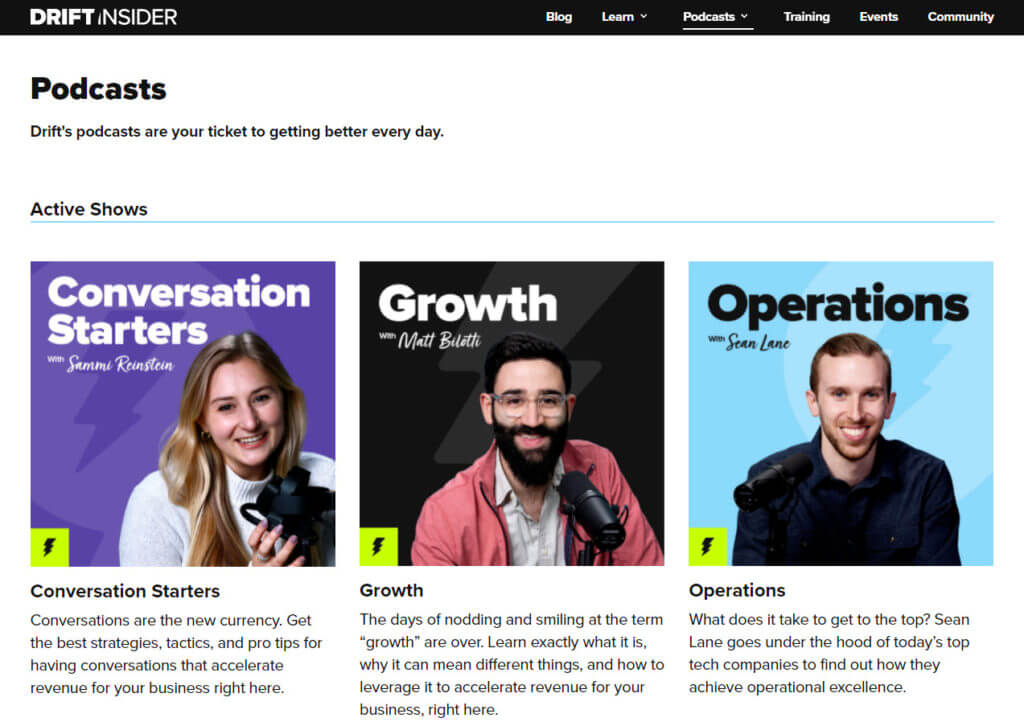 Each of these examples brings people closer to using your product. By helping them make sense of their problem, empowering them to solve it, and/or making the process enjoyable, you build trust. When these same people eventually reach out, it's because there's interest. This interest translates into warm or hot leads.
There are different ways to attract buyers with demand generation. Two of the most common are rooted in inbound marketing: lead-based generation and account-based marketing.
Lead generation vs. account-based marketing: Fishing with a net or fishing with a spear
Lead generation and account-based marketing (ABM) are demand generation strategies that work in opposite directions.
Lead generation focuses on driving demand with an individual buyer. This includes anyone who fits your ideal customer profile (ICP).
ABM focuses on driving demand to a targeted account. This is a specific client or type of client, and everyone on the buying committee.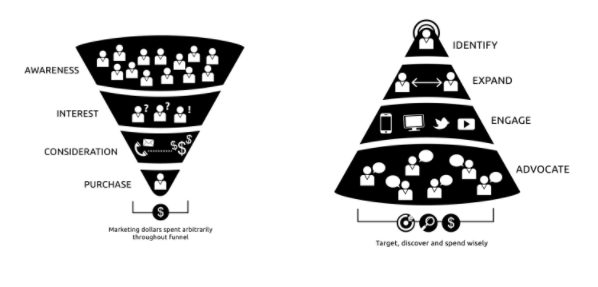 With lead generation, you cast your net wide to catch lots of fish. Multiple prospects are engaged at the top of the marketing funnel. Those with interest are guided down the funnel toward a purchase. 
With account-based marketing, you use a spear to catch the best fish. It's a land-and-expand approach to lead nurturing: secure one account and use their advocacy to grow. This requires complete alignment from marketing and sales teams to engage and build relationships at every stage of the buyer's journey.
For example, the customer experience platform Personify uses guides, webinars, and ebooks to educate, empower, and entertain its target audience.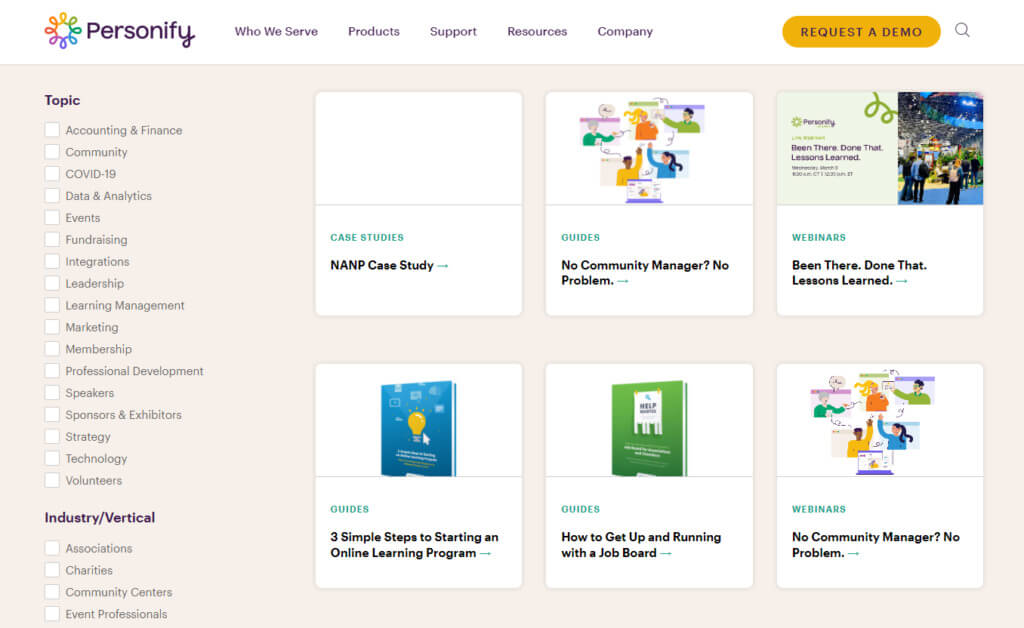 This is a good lead generation strategy. By asking for an email address to join a webinar after a prospect has consumed non-gated content, for example, the marketing team can secure leads.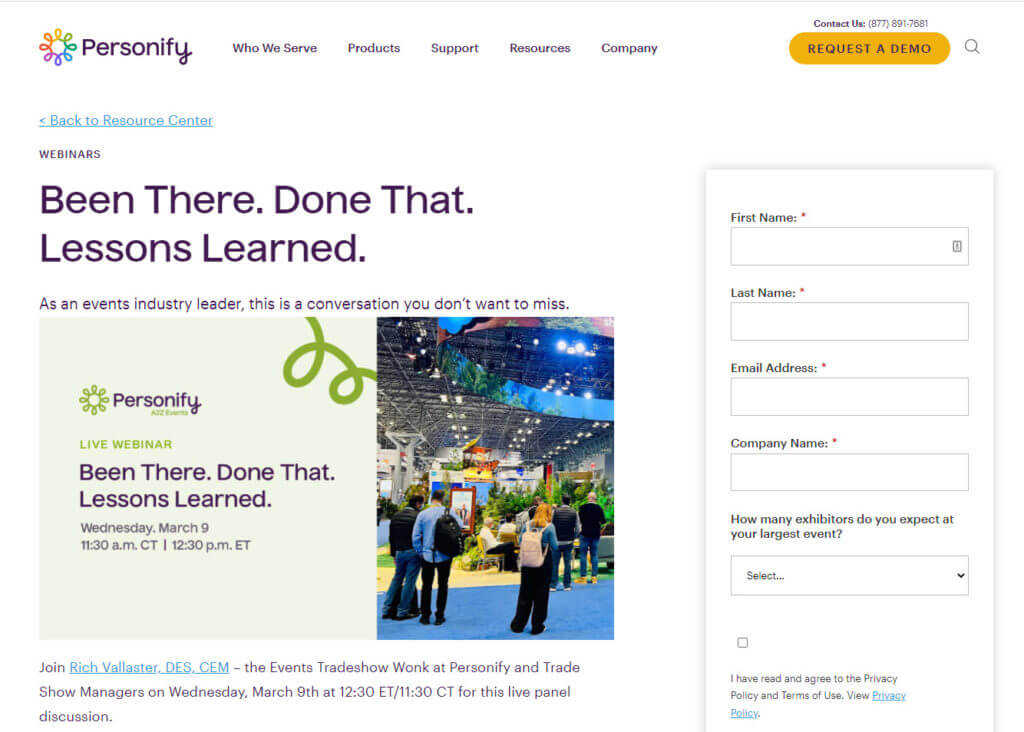 This strategy, however, doesn't guarantee Personify will land high-quality leads from a specific type of client. To do this, the company ran an ABM program alongside its lead gen efforts.
After identifying its ICP and making a list of its top accounts, the ABM team segmented target markets and buyer personas within them. They then launched a series of personalized ad campaigns according to the specific buying stage, company, and persona.
The result of marketing only to accounts that were a good fit? 39X lift in engaged site visitors; 47X ROI on contributed pipeline; 25X ROI on contributed revenue; and 8.5X ROI on marketing-sourced revenue.
Deciding between LBM and ABM
Both LBM and ABM are important demand generation approaches that can be used individually or side-by-side. The general rule of thumb is:
If your target market is small, with a large customer value (> $30,000), the highly-targeted approach of ABM is best. The strategic or financial value a customer offers makes the increased cost of running a program worth it.
If your target market is large, with a small average customer value (<$10,000), lead generation campaigns will help boost email marketing and CRM lists and convert a higher volume of customers.
In his CXL B2B demand generation course, ProductLed's Ramli John recommends answering the following questions to get a clear idea of which approach makes sense:
1. Do we sell to large enterprise companies?
2. Does my sales team have a list of target accounts that they go after?
3. Do I have the resources and budget for a target account strategy?
4. Do I have measurements in place for a target account strategy?
If the answer to any of these questions is no, your company is currently more geared towards lead-based demand generation.
But whether you're going after one account or an audience of millions, the goal of demand generation campaigns remains the same: to build awareness and interest in your product or services.
To achieve this, you have to find ways to draw them in.
How to help buyers become superheroes
To attract people to your business, you need to help them become superheroes.
As Ramli John says:
"Demand generation is about attracting interests and people to your business. How you do that is by really helping people hone their superpowers. If you want to sell efficiently at a high velocity, turning people—by educating, by empowering, by entertaining—into superheroes is the way to do it."
This, when done correctly, leads to trust, which 89% of buyers agree is an important buying factor.
How is superhero status achieved? With content marketing.
"Content marketing is a strategic marketing approach focused on creating and distributing valuable, relevant, and consistent content to attract and retain a clearly-defined audience — and, ultimately, to drive profitable customer action." [via Content Marketing Institute]
Using content to turn a person into a superhero who understands their problem and knows how to solve it (with the help of your product or service), starts by knowing exactly who you're talking to.
The better you know your audience, the easier it is to craft irresistible content to attract your ideal buyer.
Explore buyer motivations with the Jobs-To-Be-Done framework
To create content your target audience will engage with, go beyond the product and look at a buyer's true motivations.
"The structure of a market, seen from the customer's point of view, is very simple: They just need to get things done…

When people find themselves needing to get a job done, they essentially hire products to do that job for them. The marketer's task is therefore to understand what jobs periodically arise in customers' lives for which they might hire products the company could make.

If a marketer can understand the job, design a product and associated experiences in purchase and use to do that job, and deliver it in a way that reinforces its intended use, then when customers find themselves needing to get that job done, they will hire that product." – Clayton M. Christensen, Scott Cook and Taddy Hall [via Harvard Business Review]
For example, if a customer needs a drill, it's probably because they want a hole. If you dig a little deeper, you may discover that what they really want is to see new artwork hanging on their wall.
The Jobs-To-Be-Done (JTBD) framework helps you understand what your ideal buyer wants and provides the foundations to appeal to their desires in your content.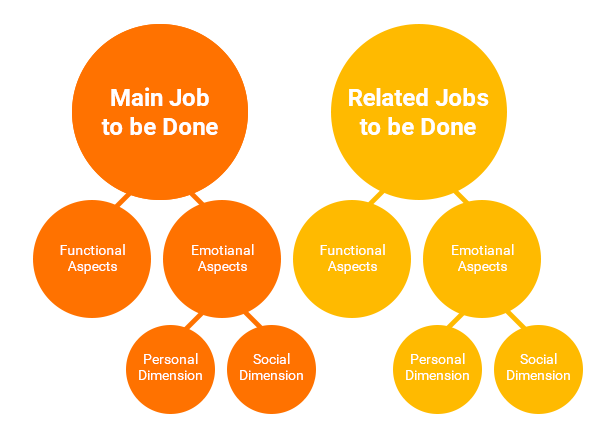 Use what you already know from qualitative research about your market and buyers to establish:
Main JTBD. What the buyer wants to achieve.
Related JTBD. What the buyer wants to achieve in conjunction with the main job.
Functional aspects. The practical and objective requirements.
Emotional aspects. The subjective requirements are related to feelings and perception.
Personal dimension. How the buyer feels about the solution.
Social dimension. How the buyer believes they are perceived by others when using the solution.
Here's an example from Adience of how JTBD applies to Spotify:
"1) The major functional Jobs-To-Be-Done are to 'organize and manage music for personal use' and to 'listen to the music.'

2) The major emotional 'jobs' are to 'organize and manage music in a way that feels good' and to 'share songs with friends.' The former is more personal. The latter, more social.

3) Related 'jobs' might be to 'download songs from the Internet,' 'make playlists,' 'discard unwanted songs,' and 'pass the time.'"
Focus on thought leadership over hard selling
When you know which jobs matter most to your audience, you can begin brainstorming content that fits with what they want to achieve and fosters good feelings towards your brand.
Trust is earned through thought leadership. Buyers are looking for guidance. They need a leader to help them hone their superpowers.
You have to remember that many new customers will be stumbling across your company for the first time. If they're researching a problem to understand it, diving in with a hard sell at this stage will only alienate them.
Thought leadership shows off your expertise to progress potential customers through the sales funnel naturally.
As Ramli John notes:
"If you're a real estate agent in New York, you want to be building content showing you really know real estate in New York. Why would I buy real estate from someone who doesn't know New York?"
Demonstrate your knowledge in the field and use it to help buyers overcome their JTBD.
Take digital experience platform Optimizely. Its Insights platform is geared towards educating its audience to "know more" and "do more."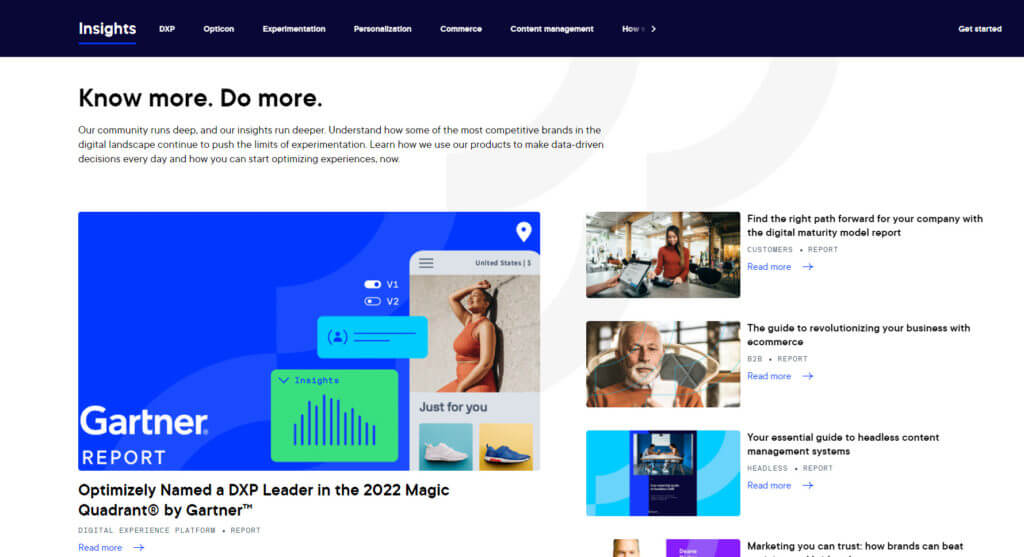 Its mission statement makes this clear:
"Our community runs deep, and our insights run deeper. Understand how some of the most competitive brands in the digital landscape continue to push the limits of experimentation. Learn how we use our products to make data-driven decisions every day and how you can start optimizing experiences, now."
By breaking down how brands get results and showing real-world product case studies, Optimizely is educating, empowering, and entertaining its audience using its industry knowledge.
It fits perfectly with Marketo Co-Founder Jon Miller's definition of what thought leadership should be:
"Thought leadership consists of ideas that require attention and that offer guidance or

clarity. Thought leadership needs to be educational and provocative at times."
Come up with topics for your content
Thought leadership is about speaking on what you know. For it to hit the mark, keep the focus on the buyer's motivations.
A simple way to do this is with a hero statement template:
(My company name) is a hero to (ONE persona) that wants to (ONE JTBD)
Nailing this will give you a clear idea of where your focus should lie.
For example, Optimizely is a hero to web developers that want to improve their conversion rates.
Once you have this, use your JTBD framework to build out a content strategy using the charm method (so-called because it resembles a bracelet that you fill with charms).
Start with your one JTBD by your persona. This acts as the "bracelet," or the base.
The "charms" are the elements that help people hone their superpowers.
Here's an example from CXL's demand generation course: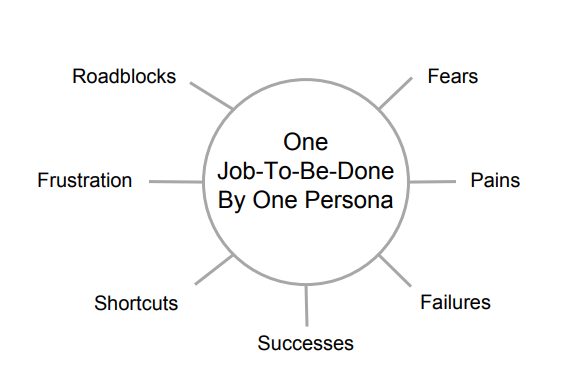 All of these charms need to be overcome for a buyer to get to where they want to be.
Here's another example of a completed charm by Ramli John based on content for Freshbooks: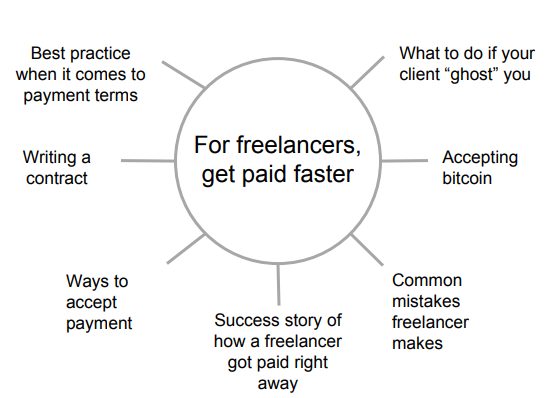 Freelancers are the main persona for Freshbooks, and one common job freelancers share is getting paid faster. By brainstorming ideas related to one job, Freshbooks has multiple relevant topics to talk about through thought leadership. 
To get ideas for your demand generation efforts, look at the questions your audience is asking.
Each completed charm can be used to fuel your content marketing to generate interest and turn attraction into demand.
Turn eyeballs into conversions with lead magnets
The two biggest challenges marketers face are creating effective content and collecting quality data.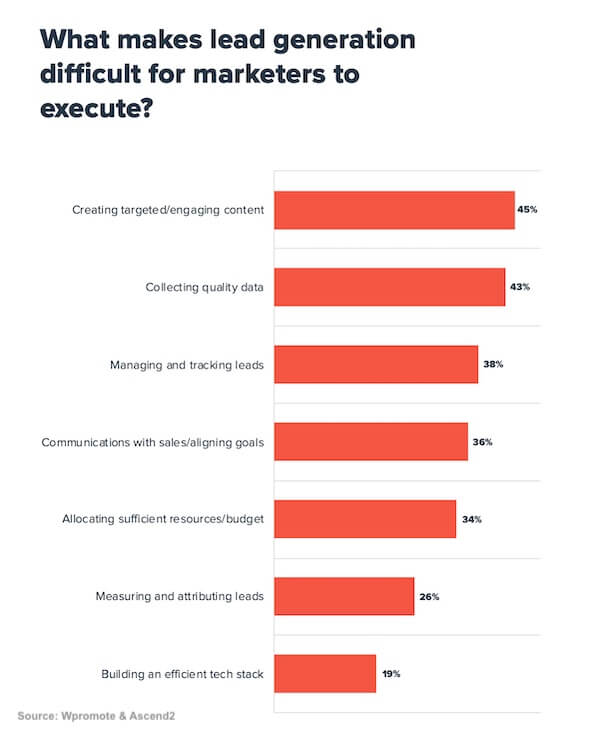 With a well-executed demand gen strategy, you can overcome both.
Contact information and attention are demand gen currency. It's all about securing interest and turning it into leads.
The best way to do this is with a lead magnet offer—valuable content that you give to visitors for completing the desired conversion action (e.g., clicking a button, filling out a form, or booking a call with your sales team).
Your lead magnet offer is defined by:
Topic. Content that answers one JTBD by your ideal buyer.
Purpose. To secure information (email address, name, phone number, etc.).
Format. How content is presented.
A lead magnet can be many things: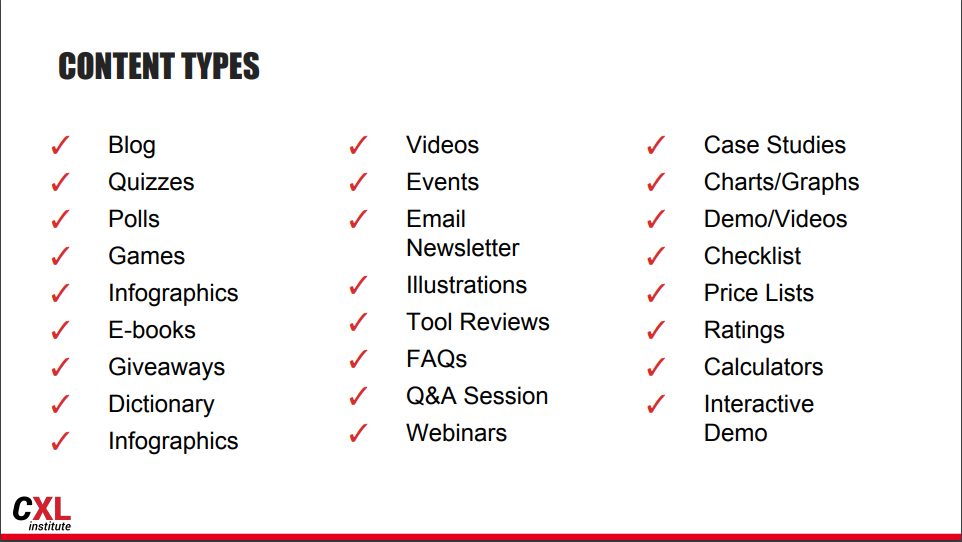 In every case, it should be driven by value. Prospects should want it and be willing to go through the hassle of typing in their email address to get it.
Remember, the goal is to turn people into superheroes.
Optimonk's PPC Cheat Sheet, for example, helps people make their ads more profitable.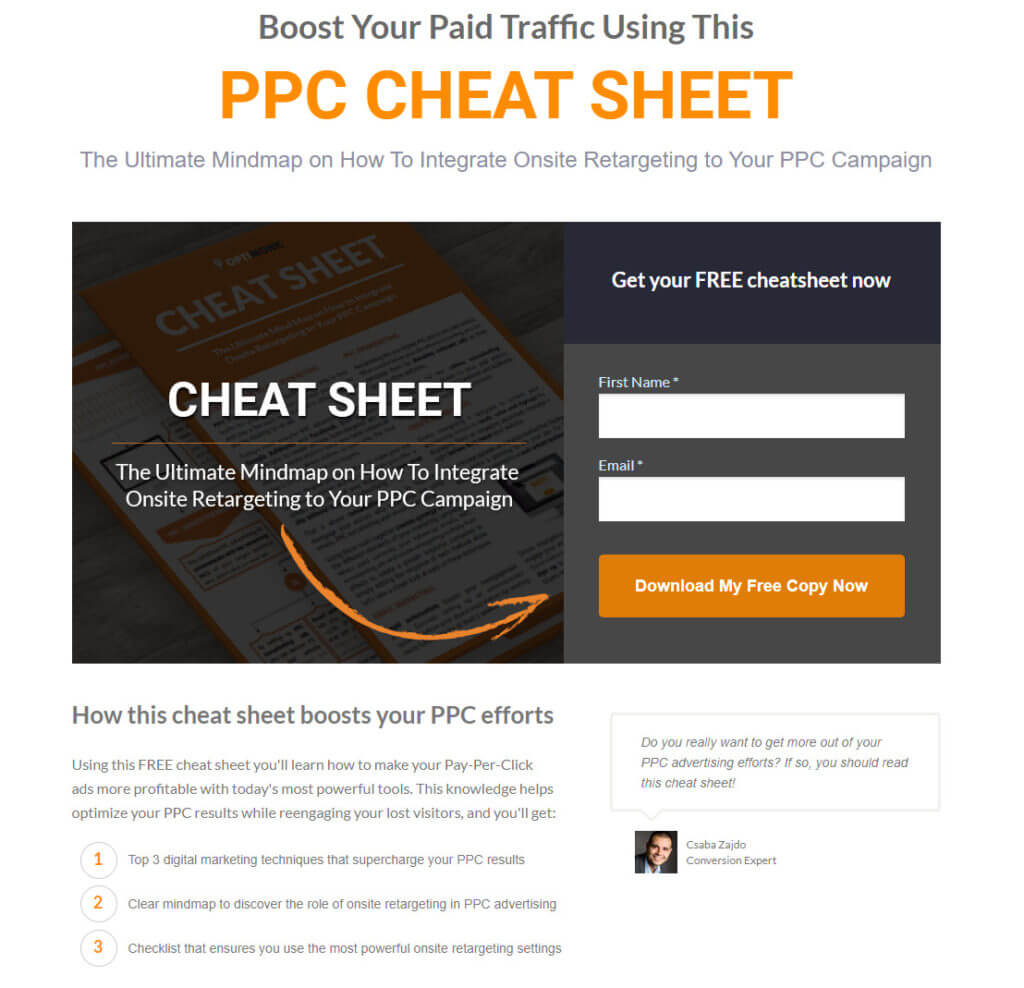 Marketers are always looking for new ideas, new ways to improve or save time and money.
Optimonk's landing page follows the classic lead magnet offer structure:
Promise. What the reader will get ("The Ultimate Mindmap on How To Integrate Onsite Retargeting to Your PPC Campaign").
Connect. Why it was created and for whom (To help marketers get more from their PPC efforts).
Key points. Issues and solutions (Presented in a clear numbered list).
Call to action. What they should do next ("Get Your FREE Cheat Sheet Now," "Download My Free Copy Now").
Your marketing efforts should follow suit. Offer irresistible value worth exchanging details for.
Which lead magnet type should you create?
The right lead magnet for your ideal buyer depends on their habits, interests, and pain points.
According to research by GetResponse, video has the highest conversion rate.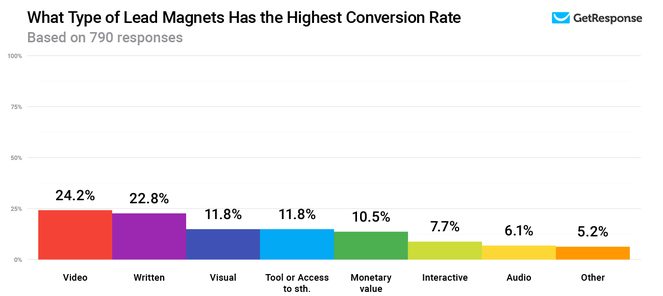 It also shows that short-form content performs best, with video clips and ebook samples delivering the highest conversion rates. In long-form content, webinars and guides are the biggest hit with prospects.
Use this research alongside the following considerations to point you in the right direction:
What type of content does my ideal buyer consume?
For example, if you're offering a low-cost product, would your audience be interested in consuming a webinar that goes into its inner workings? Or would a contest whereby they could win a copy be more suitable?
Similarly, for a high-value product, a webinar can help a buyer make a more confident decision. But their budget would mean they would not need to enter a contest.
How much time does your ideal buyer have?
A busy parent running a business in their spare time, for example, may not have time to consume a 70-page white paper. But they may listen to a podcast while out running errands. A marketer doing research, on the other hand, would appreciate an in-depth read.
What can help your ideal buyer become superheroes in what they do?
What's the best way to educate, empower, and entertain them? For example, a simple checklist could help someone improve their Instagram photos, but it wouldn't teach them how to master messenger marketing. For this, an online course or ebook would be better suited.
To make sure you're lead magnet hits the spot, check it against this list:
1. Does it add as much value as possible? The better the offer, the more people will go for it. "Sign up for 15 free infographic templates" will see a higher conversion rate than "Sign up for updates."
2. Does it evoke an emotional reaction? Make your offer so good that people can hardly believe it's free.
3. Have you put in the necessary work? ManyChat's Free Video Course contains more than seven modules and 84 lessons. Your lead magnet doesn't have to be as in-depth, but you need to put in the time and effort to earn conversions.
4. Are you setting false expectations? Don't make landing page promises your lead magnet can't keep. Don't exaggerate the value your leads get from the content—it'll only frustrate them.
5. Is it the best possible idea? Is this as good as it gets or can you do something even better? If you can, go back to the drawing board.
As with any conversion rate optimization tactic, it's important to split test your best ideas. Find out which offers get a warm reception and use templates to test the length of the sales cycle.

Use the offer to secure opt-ins, then add prospects to different lists. Test different drip email campaigns for each list, with varying follow-up messages and time before asking for the sale.

Decide on a set period and measure sales conversions to determine which initiatives perform best.
Conclusion
Successful demand generation is built on delivering value. Forget talk of sales from the get-go and focus on turning your ideal buyers into superheroes.

Set your product or services aside and look at what it is buyers want to achieve. Build your content marketing strategy around overcoming obstacles.
By helping them better themselves, you'll become the name they think of first when the time comes to purchase.
Want to learn more of the skills needed to drive continuous growth? Take CXL's Growth Marketing Minidegree.