How do you turn an SEO-focused agency into a multi-disciplinary digital marketing powerhouse that covers CRO, SEO, UX, UI, and analytics?
Bring Connections, a Spanish growth agency, realized that SEO was only a small portion of their desired market. Being highly specialized in one single field, expanding their business proved challenging.
In this edition of customer stories, we'll look at how Bring was able to go beyond their area of expertise towards Conversion Rate Optimization and UX & UI with the help of CXL training.
The status quo: running an agency with three fundamental growth principles
As an SEO-focused agency, going beyond your area of expertise is not an easy task, but it's a huge step in delivering growth across all trajectories.
Bring realized that SEO was only a small part of their desired business, so they decided to include User Experience (UX) and Conversion Rate Optimization (CRO) into their services to expand their offering.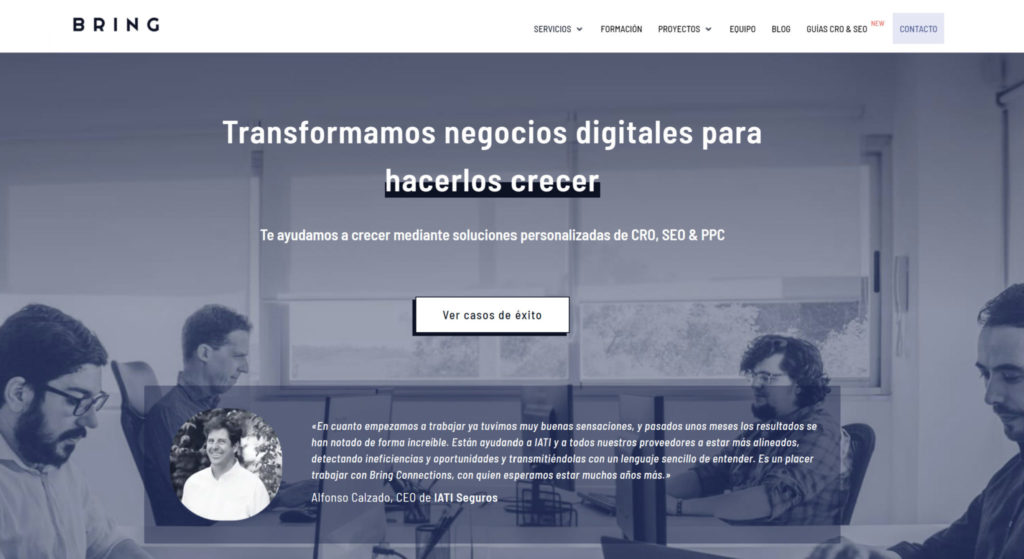 The team now adheres to three fundamental principles, two of which have been largely shaped by their training with CXL.
Deep understanding of client´s business: Emphasizing the importance of understanding the client´s business as well as the clients themselves.
Data-Driven Decision Making: Basing their decisions solely on data. Since it allows them to make informed, effective decisions in their strategies and implementations.
Agile Methodology: specifically Scrum, in their operations. This approach allows them to be flexible and responsive to changes, which is vital in a dynamic field like digital marketing.
Going beyond SEO
As Bring Connection aimed to reach an ARR of around 10 million euros, expanding beyond SEO became a must. Specially, in order to understand their clients' businesses and make data-driven decisions that could deliver more value.
To achieve this, upskilling became a must, but not by following any outdated playbook. They needed to learn from the best practitioners in the industry.
Prioritizing learning while managing clients´ demands was quite a challenge. And an added problem was the cognitive overload that appeared with language barriers: Bring Connections mostly works with Spanish-speaking clients, but most high-quality online courses are in English.
Upskilling an agency with CXL
CXL provided the essential skills and knowledge needed to transition into CRO and UX. The whole team subscribed to the All-Access subscription and pursued several certifications, studying subjects like digital psychology, analytics, and CRO.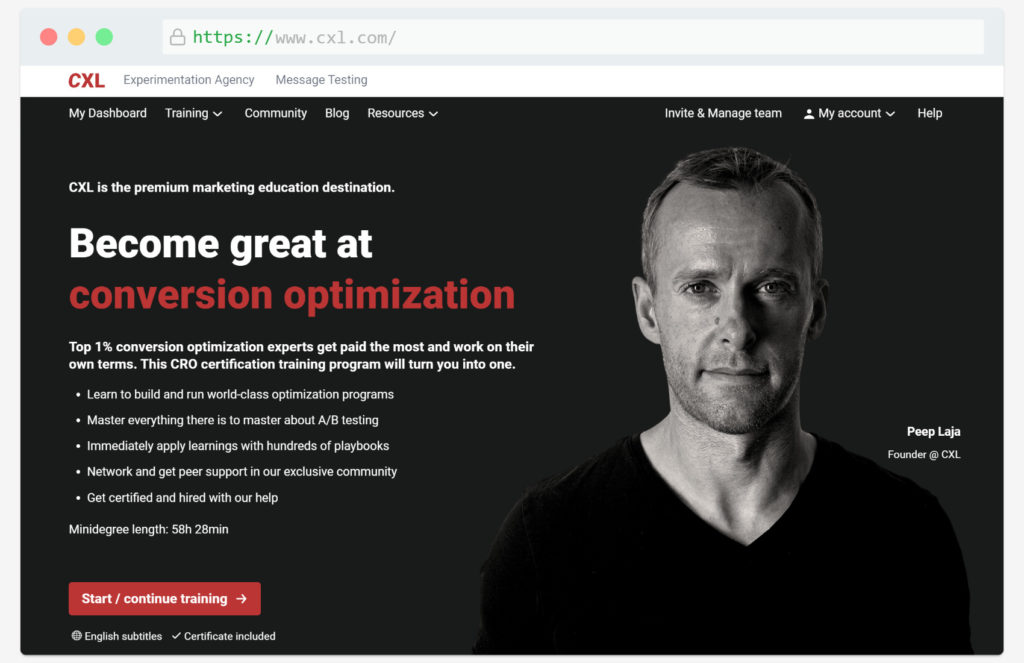 They created several strategies to help their employees complete the trainings, from including group learning and discussions, to creating accountability by checking on employees' course progress and publicly discussing their learnings on platforms like LinkedIn.
I think it's a good idea to implement some hours in the week only to learn. You are doing it slowly and it's better for the brain.

Félix Gascó
After some months, the agency noticed the effectiveness of the courses when two or more team members worked on the same certification and discussed their learnings together. Putting learnings into words and explaining them to others helped solidify the knowledge.
The results
Taking CXL marketing training facilitated Bring's transition from a primarily SEO-focused agency to a multi-disciplinary digital marketing agency that excels in CRO, UX, and SEO.
The training had a substantial impact on their capabilities, allowing them to implement new strategies and techniques with their clients from day one.
I try to apply to my clients everything I see in the videos. You can learn something and start using it right away. Normally the trainings are very good, very good.

Félix Gascó
The team was able to apply their new knowledge in psychology and behavioral design and improved their copywriting and wireframing skills significantly. After taking the Product Messaging and Sales Copywriting course, they were able to analyze website messaging more effectively.
Thanks to CXL courses, the team was able to implement new theories, which resulted in providing a better service for their clients and better business performance.