According to Econsultancy, up to 30% of ecommerce visitors use internal site search. Due to the increased level of purchase intent from searchers, they're known to convert up to 5–6x higher than the average non–site search visitor.
Site searchers account for up to 14% of all revenue, and case studies have shown increased conversion rates of 43% from site search optimization.
Yet how many sites pay attention to site search? Too often, it gets ignored. This post walks you through opportunities to improve your internal site search.
Note: If you want a start-to-finish list of principles to follow for ecommerce, see our ecommerce site search guide.
The massive opportunity of site search optimization
When Screen Pages studied the results of 21 clients, they found that in all but one case, the average revenue was significantly higher from people performing site searches.
That was true even though, in the most notable example, fewer than 10% of users performed searches—but accounted for nearly 40% of the site's revenue.
As another study showed, however, only 15% of companies have dedicated resources for optimizing the site search experience. Some 42% include it in a wider range of optimization responsibilities; another 42% neglect it all together.
Worse still, only 7% of companies report learning from internal site search data and using that data in other areas of their business.
Another study, by SLI Systems, surveyed 160 ecommerce professionals. It found that nearly 6 in 10 people didn't use site search data for their marketing programs.
That's a problem. Site searchers are the only users who tell you exactly what they're looking for and the words they use to describe it.
If, for example, you know that most site search users are looking for "coffee tables," don't you think you could do something with that data?
Or, what if you knew a search for Product ABC—the second most-searched product on your site—had an average order value (AOV) of $111.89 but 1,619 fewer searches than Product XYZ, with an AOV of $99.94
Don't you think you could do something with that information?
So what's keeping marketers from making the most of this data? According to the same study from SLI Systems:
What many of those respondents may not realize is that setting up internal site search is free and relatively easy with Google Analytics.
How to set up internal site search tracking in Google Analytics
Turning on Site Search tracking opens a menu that allows you to list up to five parameters used in site searches. So, if the search box in the header of your site used "q=search+term," and an advanced search page used "advq=search+term," you would add both "q" and "advq" to the "Query parameter" box: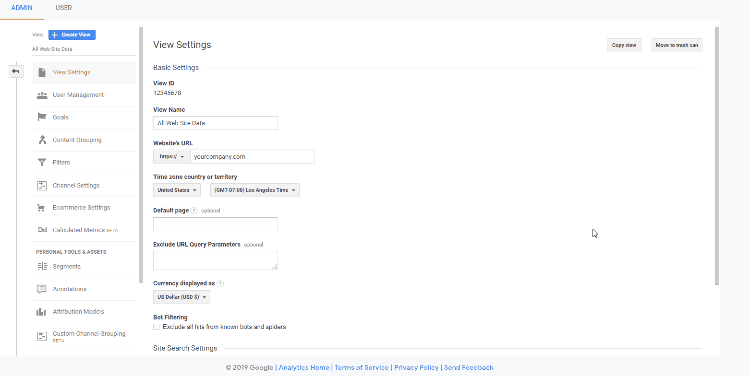 There's a checkbox option to strip the query parameters associated with search, which means you won't have to include your search query parameters in your Exclude URL Query Parameters list.
If your site uses categories within search, you can list those separately in the "Category parameter" box after toggling on the sub-feature.
Sites with a "search within department" function, like Amazon, might use both the Query and Category parameters:
If your site search doesn't use query parameters, you can change your search engine (best option) or use a workaround with filters or Google Tag Manager.
Once you're tracking your site search data correctly, you can put more focus on encouraging users to use the feature—and making that experience a pleasant (and profitable) one.
3 ways to optimize your internal site search
There are plenty of articles on how to optimize your internal site search. I'm going to share my three favorite methods.
1. Put more emphasis on the search bar.
If a majority of your site revenue comes from search, then you should make it easier for visitors to find the search bar.
That's what Jason Dupus of Black Forest Décor did with their company site a number of years ago, which resulted in a 20% jump in conversions and an 84% jump in revenue for customers using search.
Before
After
There did four things to the search field to make it more noticeable:
Increased the overall pixel size by 72%.
Moved it to the center of the page.
Improved the CTA from "Go" to "Find."
Added color to the search box.
The total sum of these changes resulted in a 34% increase in the overall conversion rate of the site. Read the full case study here.
Years later, they've retained most of those changes and expanded on some. The search bar is now even larger, includes microcopy, and the top navigation has been decluttered to make the site search option more obvious: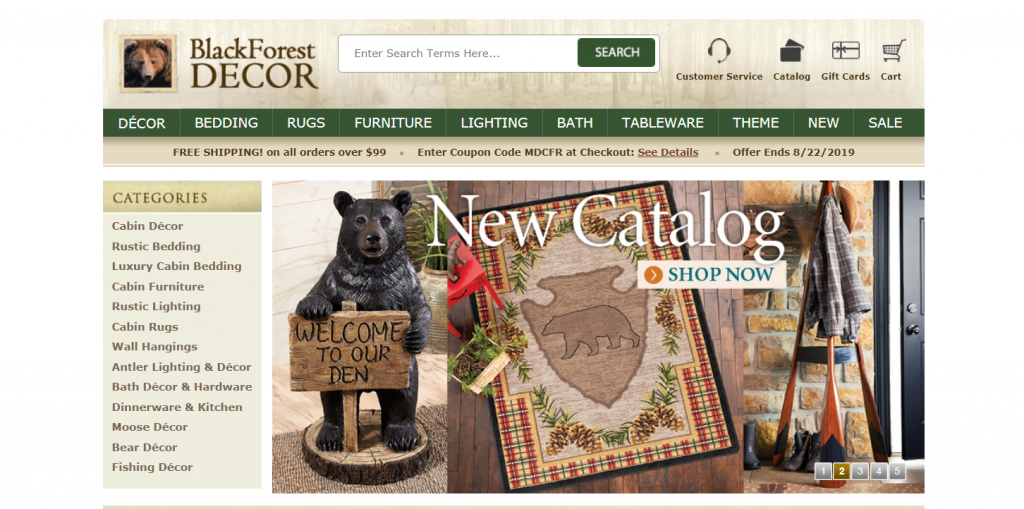 2. Remove and improve search results.
Let's say we pulled the search report for last quarter, and we noticed that our top search, "coffee tables," had a 34.6% exit rate after the search and a 12.9% search refinement. That would mean that more than a third of users who searched this keyword didn't find what they were looking for and left the site all-together.
In some cases, this may occur when a product is discontinued, out of stock, or is something you don't carry. But instead of showing a "no results found" page, try Matt Cutt's recommendation: Show a "related products" page (for small retailers) or a "temporarily out of stock" option if you plan on carrying the item again.
To reduce keyword refinements, it's a matter of delivering better search results. To find out what the refined terms are, click on the keyword, then "refined keyword" in the primary dimension area.
You can see the most common refinements for a search query.
In some cases, this may be as simple as improving how you've tagged content or products on your site, and removing products that you have no intention of re-stocking.
Depending on the volume of your store, timeliness of your products, selection, etc., you may want to invest in a more robust search solution to provide even more relevant results.
Our two favorite platforms for this are SearchSpring:
And SearchNode:

For enterprise sites, Adobe's marketing cloud offers a site search feature that can be tied to customer profiles and personalized based on customer segments.
In a case study, FootSmart improved their conversion rate for site searchers by 82% through a weekly monitoring campaign of underperforming search terms and subsequent adjustments.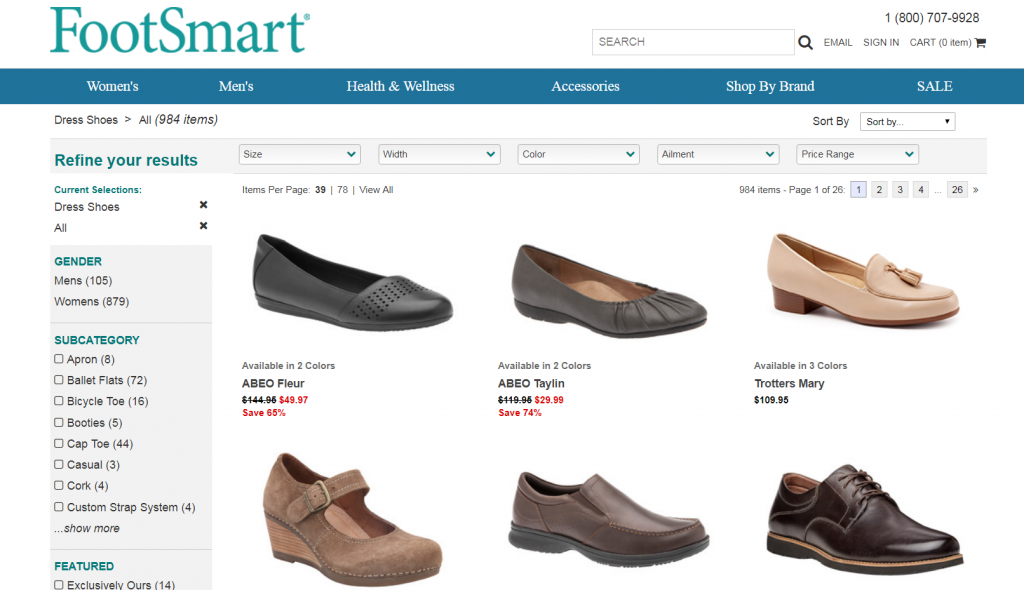 With over 50,000 unique searches each month, FootSmart.com's improved search conversion rate will drive multi-million dollar revenue gains this year as well as additional learning and insight into effective merchandising strategies via on-site search.
3. "Searchandizing"
This strategy is, perhaps, my favorite because I had never heard of this term before. Searchandizing takes advantage of the searched keyword to feature more profitable products in search results.
For example, Target (by way of PracticaleCommerce) sneaks a DSLR camera into results alongside similarly priced point-and-shoot cameras:
Visitors may not have been considering a (more expensive) DSLR camera, but seeing it alongside the more common options could encourage a budding photographer to splurge for the "next step up" camera.
The same goes for "Clearance" items in the search results, which simultaneously push older inventory and make newer inventory look more appealing:
Even without manipulating the results, searchandizing can provide users with multiple presentation options (e.g., most relevant, newest) and filters (e.g., size, color) to find the right products.
Even small sites, like BuyAKilt.com, have seen strong revenue increases (76%, in their case) just by adding product filters to their site search results.
By giving searchers the ability to sort their options more effectively, BuyaKilt increased conversions by 26.0% and shopping cart visits by 19.8%.
(Who knows how much more revenue could be gained if they started optimizing the checkout flow, too.)
Conclusion
While this post doesn't include every potential optimization for your internal site search, it covers many of the key opportunities.
The whole point of optimization is to optimize closer to the money, so if you can reduce friction for high-value users who already know what they want, you'll get more from your efforts.
To get started:
Make your search bar obvious and easy to use.
Monitor user searches to improve results or remove irrelevant ones.
Structure the results page to maximize usability for searchers and profitability for your site.